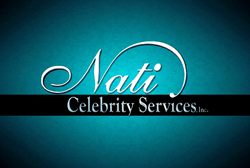 Hollywood, CA (PRWEB) July 10, 2014
Nati Celebrity Services announced today that they have agreed to attend this year's ESPN ESPY Awards and the exclusive VIP Party immediately following. The VIP party will be held on July 16th in Los Angeles, and is hosted by five-time Heavyweight Champion of the world, Evander Holyfield, and the Playboy Playmate Dancers.
There will be over thirty athletes and celebrities in attendance. Some of the special guests scheduled to attend include Chris Canty, Verne Troyer, Nia Peeples, Matt Barnes, Nick Young, Mario Lopez, Richard Sherman, Anderson Silva, Trey Songz, and Nati Celebrity Services' President Domenick Nati.
An expanded Red Carpet will begin at 9:00 p.m. at The Palm Restaurant in West Hollywood. This event will help raise money for Breast Cancer Awareness in Southern California.
For more information on Nati Celebrity Services, visit http://www.NatiCelebs.com
About Nati Celebrity Services:
From professional athletes to Hollywood actors to mainstream musicians, Nati Celebrity Services is one of the largest sports & entertainment public relations agencies in the world. The firm specializes in media relations, marketing communications, and literary production. Established by media mogul Domenick Nati, the firm was created after Mr. Nati's retirement from producing television, where he earned credits on: Talladega Nights, Deal or No Deal, So You Think You Can Dance, Making the Band and many more major productions.
https://twitter.com/NatiCelebs
https://www.youtube.com/NatiCelebs
https://www.facebook.com/NatiCelebs