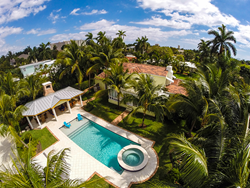 Los Angeles, CA (PRWEB) July 12, 2014
Obeo, the real estate industry leader in professional photography and online marketing tools announced that they have teamed up with FromAbove, the leading provider of high quality aerial video and photography in Southern California. This partnership means that all of Obeo's Southern California agents and brokers will now have the ability to add aerial drone photography and video to their listing's marketing package.
With the proliferation of aerial photography in real estate, Obeo has receiving more and more requests for this type of service. After much research, Obeo chose to work with FromAbove, which aims to become the gold standard in terms of service, professionalism, and exceptional quality. FromAbove has attracted clients from across the country including the Farmers Insurance Open, Hard Rock Hotel Las Vegas, Sierra Nevada Corporation, and of course, Obeo.
Through the new partnership with FromAbove, Obeo will be offering an aerial picture package (15 photos), aerial video and picture (15 photos and 90 second video), and select pre-shot aerial neighborhood videos. For more information, call 800-729-6236.
About FromAbove
Founded in July 2013, FromAbove operates a network of highly skilled aerial pilots across the country while providing backend and professional video editing support. FromAbove provides insurance and peace of mind to its clients knowing they are hiring the best.
Services include an aerial picture package (15 photos), aerial video and picture (15 photos and 90 second video), select pre-shot aerial neighborhood videos, and flight training.
About Obeo
As a leading innovator and provider of real estate marketing technology in North America, Obeo offers strategic solutions to real estate professionals looking to stand out from the rest. World class professional photography and high tech automated marketing solutions for brokers, real estate agents, builders, mortgage firms and more.
Obeo's EasyEdge automated and integrated marketing technology has become the industry standard for brokers who want their agents to be more productive. Agents are more successful when they do what they do best; list, show and sell. Top brokers know that, and that's why they let Obeo automate the marketing. Top brokers also know that consistent top quality lead generation is essential to growing their business, and Obeo provides the best lead generator in the industry.