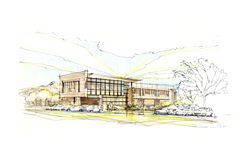 West Jordan, UT (PRWEB) July 14, 2014
Jordan Valley Medical Center is expanding the hospital with the inclusion of a new comprehensive cancer center set to open by the fall of 2015. Jordan Valley Medical Center will be the only hospital west of I-15 in the Salt Lake Valley providing both inpatient and outpatient cancer services
Additionally, Jordan Valley Medical Center has partnered with Elekta, a company that develops healthcare products and cancer treatment planning systems for radiation therapy, radiosurgery and brachytherapy, to bring Versa HD radiotherapy system to Utah. Versa HD is a radiation treatment system designed to improve cancer patient care by allowing physicians to treat a broad spectrum of tumors throughout the body, while enabling treatment of highly complex cancers that require extreme targeted precision. With the construction of the Cancer Center and the addition of this new technology, Jordan Valley Medical Center will be the first hospital in Utah to introduce Versa HD to the community.
"The Versa HD system will bring some of the most advanced and up-to-date technology to Jordan Valley Medical Center and allow our doctors to offer sophisticated radiation therapy treatments to the patients in our care," said Mark Reilly, M.D., radiation oncologist from Gamma West.
Construction on the Cancer Center at Jordan Valley Medical Center is projected to begin in the fall of 2014 and finalize in the fall of 2015, with a grand opening soon to follow.
About Jordan Valley Medical Center
Jordan Valley Medical Center is a 183-bed, state-of-the-art hospital located in West Jordan, Utah. Jordan Valley Medical Center is equipped with the most advanced medical technology and offers comprehensive health care services, including emergency care, cardiac care, orthopedic care, advanced surgical procedures, diagnostic imaging, maternity care, sports medicine, and help for a broad range of medical conditions. With an experienced medical staff of more than 600 and a dedicated health care team, Jordan Valley Medical Center is committed to providing high-quality care in a friendly hospital environment. Jordan Valley Medical Center is directly or indirectly owned by an entity that proudly includes physician owners, including certain members of the hospital's medical staff. For more information, visit jordanvalleymc.com or call 1-866-431-WELL (9355). Follow Jordan Valley Medical Center on Facebook at http://www.facebook.com/jordanvalleymedicalcenter.
###