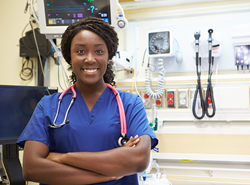 With nurses in high demand, we are proud to be one of the schools in our area that will provide a quality education for nursing.
Hattiesburg, MS (PRWEB) July 11, 2014
As the need for licensed practical nurses continues to grow, Antonelli College is one step closer to supplying the increasing demand in the Hattiesburg area. In June, Antonelli College received preliminary approval from the Mississippi Community College Board to offer a new Practical Nursing program at the Hattiesburg campus, which allows the college to begin enrolling students in the new program and to teach the program. The new program received preliminary approval based on the recommendation of a peer review team of Mississippi practical nursing educators, and will undergo an additional visit in the first year of operations in the process of seeking full accreditation.
Pending approval from its institutional accrediting agency, Antonelli College—Hattiesburg expects to open its doors to the first class of 20 practical nursing students this September. The new program will enroll up to a total of 55 practical nursing students annually with three class starts per year and occupy a dedicated space that includes a new nursing lab that is equipped with the latest nursing lab instructional equipment. Students who complete Antonelli College's 12-month program will receive a Diploma in Practical Nursing.
Antonelli College has hired Ms. Linda Shows, MS, BSN, RN, a seasoned practical nursing educator who has educated hundreds of Mississippi practical nurses, as a founding chair for the new program. "We are really proud of the work that Ms. Shows did in setting up the program, finding and hiring talented faculty, and putting together a great program advisory committee. Additionally, she has excelled at working with her colleagues from other practical nursing programs in the process of peer review of the program to implement their suggestions for making our nursing program even stronger," said Judy Edwards, Dean of Academic Affairs of Antonelli College—Hattiesburg. Ms. Edwards further noted the program's success in establishing clinical education agreements.
"With nurses in high demand, we are proud to be one of the schools in our area that will provide a quality education for nursing students," says Steve Bryant, Campus President. "We look forward to a long tradition of providing our local healthcare community with the quality practical nurses needed to serve the people of South Mississippi."
According to the U.S. Bureau of Labor Statistics (BLS), employment of licensed practical and licensed vocational nurses is projected to grow 25 percent for 2012 to 2022, which is significantly faster than the average for all occupations. As the baby-boom population ages, the overall need for healthcare services is expected to increase, making way for more LPN job opportunities in hospitals, physicians' offices, residential assisting-living facilities, and other healthcare settings. Additionally, there's a large anticipated number of currently employed LPNs who are facing retirement, which will create yet another area of employment opportunity in the upcoming decade. The job outlook for licensed and experienced LPNs, according to the BLS, is projected to be quite strong.
About Antonelli College:
Antonelli College is accredited by the Accrediting Commission of Career Schools and Colleges (ACCSC) to award Associate of Science and Associate of Applied Science degrees and Diplomas. With campuses in Ohio and Mississippi, Antonelli College, a private college established in 1947, offers convenient classes during the day, evening, or online; graduate employment services are also provided.
Antonelli College's main campus in Cincinnati, Ohio is approved by the Ohio State Board of Career Colleges and Schools, Registration No. 90-03-1279T, to offer Associate degree and Diploma programs. Antonelli College's satellite location in West Chester, Ohio is approved by the Ohio State Board of Career Colleges and Schools, Registration No. 90-03-1279T-LC, to offer courses from all programs approved for its main campus. Antonelli College is also authorized by the Chancellor of the Ohio Board of Regents to offer several Associate degree programs. Antonelli College Cincinnati's Practical Nursing Diploma Program has received conditional approval from the Ohio Board of Nursing.
Antonelli College's Mississippi campuses, including Antonelli College Online (a division of Antonelli College Jackson), are licensed by the Mississippi Commission on Proprietary School and College Registration, Certificate No. C-102. The Mississippi State Board of Massage Therapy recognizes Antonelli College as a school in good standing to offer A.A.S. degree and diploma program in Massage Therapy, License No. 0401. Graduates of these programs are eligible to apply for Massage Therapy licensure in the State of Mississippi. The Mississippi State Board of Dental Examiners has approved Antonelli College's Dental Radiology seminars. Successful completion of such a seminar for dental auxiliaries satisfies one of the Board's requirements for applying for the Mississippi Radiology Permit.
For more information on our graduation rates, the median loan debts of graduates, and other important information, please go to http://www.Antonellicollege.edu/disclosure.
Antonelli College's many fields of study include: ART & DESIGN: Graphic Design, Interior Design, and Photography; BUSINESS &TECHNOLOGY: Business Management, Hospitality Management, Information Technology, Marketing and Social Media Management, and Sales Management; HEALTH & WELLNESS: Dental Assisting, Massage Therapy, Medical Billing and Coding, Medical Assisting, and Practical Nursing. (Available programs vary by campus.) For more information, visit http://www.antonellicollege.edu.