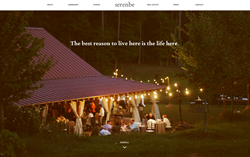 The necessity to distill down the Serenbe brand was immeasurable.
Atlanta, GA (PRWEB) July 11, 2014
Serenbe announces the launch of innovative new website serenbe.com. Completely redesigned with a fresh, vibrant look that features gorgeous photography and a clean design to showcase the community and singular lifestyle of Serenbe. The new site features updated information about Serenbe, the history and vision, an in-depth community directory, upcoming events and much more.
"The necessity to distill down the Serenbe brand was immeasurable. Once someone visits Serenbe, they get it, but how do you explain the appeal and depth of the community offerings, the myriad ongoing events before they arrive? And then how do you provide succinct information to get people to return? These were our primary objectives," states Director of Marketing & Communications, Monica Olsen.
Featured on the site are the key Serenbe lifestyle advantages; quality of life, wellbeing, and sustainability, with sections for real estate, press, a community directory and a deep events calendar. The Events Calendar and Community Directory are designed to provide a fluid and engaging way for visitors to see all the upcoming reasons to enjoy Serenbe. Both listings can be sorted by type, e.g. Food & Wine, Family Fun or Arts, Fitness or Shopping, and visitors can then go deeper for event details, contact info, tour sign-ups, ticket links and social sharing.
"Giving visitors a better experience to learn about the Serenbe community and engage with the impressive list of our ongoing events was a great need," says Serenbe Founder, Steve Nygren,
The creative agency that designed the website, Apartment One, is a boutique firm with a highly creative vision, attention to detail, and great passion for their work. "They are aligned with Serenbe on so many levels and from the moment we engaged them, they were a joy to work with," notes Monica Olsen.
The website project began early this year with the Apartment One Principals, Liza Lowinger and Spencer Bagley, coming for an immersion weekend in the country to kick off the project. "Serenbe is so many things, it's nuanced and layered and the setting is really beautiful, it's hard to distill into a paragraph or an image. They knew what they needed for the site and we were able to come in and deliver on that vision, that's what we do best," says Liza Lowinger.
Steve Nygren affirms, "They brought deep creative expertise to the table and exceeded our expectations, and that's not always easy to do. We see them as long-term partner as we build out the Serenbe community and brand."
Serenbe is pioneering a new farm-to-table community model connected to nature on the edge of Atlanta. Building a neighborhood where fresh food, fresh air and sustainable development make wellbeing as natural as nature itself. Set among acres of preserved forests and meadows with miles of nature trails connecting homes and restaurants with arts and businesses, Serenbe's architectural planning sets a new standard for community living and engagement by remembering past. http://www.serenbe.com