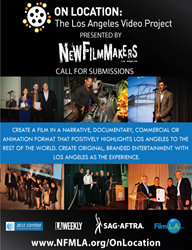 Los Angeles, CA (PRWEB) July 16, 2014
L.A. is a commonly misunderstood city and On Location: The Los Angeles Video Projects wants to unveil the bustling and always buzzing metropolitan sprawl through the individual eyes of filmmakers from all walks of life. Film students, up and coming directors and professional storytellers are all encouraged to apply and capture a unique vision of L.A. into a microcosm manifestation through short film. The 2014 On Location: The Los Angeles Video Project event is presented by NewFilmmakers LA and is co-presented by AT&T Center, LA Weekly and the City of Los Angeles.
On Location is now calling for entries intended to illustrate Los Angeles in a positive light through creative storytelling. This can be accomplished through the medium of documentary, narrative (live action or animation), commercial, and music video. Shorts must be under 5 minutes long and must not show Los Angeles in negative light.
Selected videos will be showcased during a red carpet premiere at the AT&T Center in Downtown Los Angeles on October 11th, 2014. Press opportunities, networking, an after-party and a celebrity/industry judging panel will be among much other visibility and exposure that all finalists will receive.
Past On Location guests, presenters and judges include Steven J. Wolfe, producer of 500 Days of Summer, Demian Lichtenstein, director/producer of 3000 Miles to Graceland, and Bokeem Woodbine, star of Total Recall. Steve Howey from Showtime's hit series Shameless, and Max Greenfiled from ABC's New Girl have also participated in the program.
Cash prizes will be awarded to the finalists. One overall Grand Prize Winner of a Production Prize Package valued at $40,000 from Alternative Rentals plus $1000 cash. Two 1st Place Prize Winners of $500 cash, one from each category. Two Audience Award Winners of $250 cash, one from each category. Seven selected participants will receive a filming permit, courtesy of FilmLA, valued at $625. Five selected participants will receive a Movie Magic Scheduling & Budgeting Software Bundle, valued at approximately $1000, courtesy of Entertainment Partners. Three selected participants will receive a Chicago Music Library Licensing package, valued at approximately $2000.
The deadline to submit a film to this LA film fest is August 29th, 2014 at 11:59 PST. You can submit and find the official contest rules at http://newfilmmakersla.com/onlocation/.
About NewFilmmakers Los Angeles
Located in Downtown LA, AT&T Center is the Presenting Venue Sponsor of NFMLA. Founded in 2007, NFMLA has screened over 800+ films from over 51 countries. NFMLA boasts over 20,000 supporters locally. The organization provides a forum where filmmakers can be recognized with title supporters Sony Pictures Entertainment, SAG-AFTRA and LA Weekly.