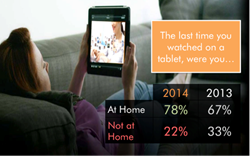 Consolidation, personalization, and simplification in TV technology are increasingly important to consumers.
Boston, MA (PRWEB) July 16, 2014
Computers were the first devices used for watching TV online, and even today they remain the single most commonly used device for online viewing. However, recent research suggests that online viewing is beginning to shift away from computers and toward mobile devices and Smart TVs.
According to the annual "What's TV Worth" study from Hub Entertainment Research, 59% of consumers with broadband Internet access say they use a computer to view TV shows online. That's down 3 points from one year ago, when 62% said they watch TV content on a computer.
At the same time, use of other devices has increased at least directionally over the past year, including:

Smartphones: Up 2 points, from 21% to 23%
Smart TVs: Up 2 points, from 11% to 13%
Tablets: Up 4 points, from 23% in 2013 to 27% in 2014
Among those who watch on portable devices, 78% said that they last time they watched on a tablet they were at home (up from 67% in 2013).
The research also shows that viewing TV shows online through a device that connects to a TV has remained flat over the past year—including game consoles, Blu-Ray players, Roku devices, and Apple TV. The one exception is Google Chromecast, which has shown relatively rapid adoption since it was introduced in July 2013 (5% of TV viewers with broadband now say they use the device).
This trend is even more pronounced among Millennials (those age 18-34):
72% of Millennials watch TV on a computer in 2014, down from 76% in 2013
30% watch on a tablet, up from 27% a year ago
"Although device use in 2014 is not dramatically different from 2013, the direction supports a consistent movement we're seeing toward more use of portable devices at home—in the case of tablets—and from more boxes to fewer boxes—in the case of Smart TVs," said Peter Fondulas, Partner at Hub Entertainment Research. "That's in line with other findings from across our studies, which show consolidation, personalization, and simplification in TV technology are increasingly important to consumers."
The 2014 What's TV Worth study was conducted in April 2014 among 1500 TV consumers with broadband internet access, aged 16-64. The 2013 wave was conducted in March 2013 among 1750 broadband consumers, aged 16-64.
Excerpts from What's TV Worth as well as other Hub studies are available from their website, http://www.hubresearchllc.com.