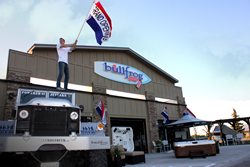 We've been serving the Logan and Cache Valley area for years. It's exciting to be able to have a permanent location to better support our customers there.
Salt Lake City, UT (PRWEB) July 11, 2014
Bullfrog Spas is pleased to announce Bullfrog Spas of Logan, located in Logan, Utah, as the newest addition to the expanding family of Authorized Bullfrog Spas Retailers around the world.
Bullfrog Spas of Logan is located in an all new showroom in the city of Nibley, UT on Highway 89, 3 miles south of the Y intersection of Highway 89 and Nibley Road. This location is owned and operated by Shawn Maynard, who also operates two additional Northern Utah Bullfrog Spas stores in Ogden and Layton. Tom Makin, who has worked for over 20 years in the Cache Valley and Box Elder area in construction sales, has come onboard as the store manager with support from Rod Smith, a Bullfrog Spas customer who liked the product so much he has been representing Bullfrog Spas in Logan for several years.
Bullfrog Spas of Logan features a 5000+ sq. foot showroom with space for more than 24 hot tubs on the floor, including every model in the Bullfrog Spas line. In addition, every color and accessory choice is available to view in the showroom.
Bullfrog Spas of Logan also offers swim spas by Catalina, Traeger Grills and grilling accessories, and a complete line of spa care products. The line up of water care products includes Spa Frog and Nature 2 mineral water care systems, Silk Balance, Brilliance Spa Care System (chlorine-free), and the Baqua Spa Care products for those sensitive to chlorine or bromine products. Bullfrog Spas of Logan also carries the Covana automatic gazebo and spa cover system, Smart Top hot tub covers, cover lifters, replacement spa covers and a complete selection of filters and replacement parts for spas from all manufacturers, including Jacuzzi hot tubs.
The Grand Opening event for Bullfrog Spas of Logan was held recently with a fantastic turnout. Bullfrog Spas of Logan has already delivered their second truckload of spas to happy customers around the Cache Valley and northern Utah area.
In addition to providing a great resource for top-quality hot tubs and supplies, Bullfrog Spas of Logan supports community events with a unique loan-a-tent program, which provides anywhere from 1 to a dozen or more tents for community events, get togethers, or even kids soccer games at no charge.
Visit the newest Authorized Bullfrog Spa Retailer, Bullfrog Spas of Logan, today to experience the benefits of Bullfrog Spas with the JetPak Therapy System.
About Bullfrog Spas
Founded in 1996, Bullfrog International, burst onto the pool and hot tub scene with a new way to build portable hot tubs utilizing patented JetPak Technology. JetPaks are modular jetted spa seats that can be customized at purchase and interchanged at any time. JetPak Technology eliminates hundreds of feet of pipes and hundreds of pipe fittings, creating a more reliable and efficient plumbing system. Today, Bullfrog's new JetPak Therapy System is a completely re-engineered hi-tech version of the original JetPak System. Bullfrog International is headquartered in the Salt Lake City, Utah metro area and currently distributes products in the United States, Canada, Australia, New Zealand, South America, Asia, and Europe.
For any questions on Bullfrog Spas and when and where to see Bullfrog Spas and the JetPak Therapy System in your area visit the Bullfrog Spas website or call 801.565.8111.