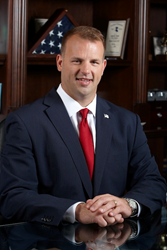 Philadelphia, Pennsylvania (PRWEB) January 13, 2015
The Wish Upon A Hero Foundation announces that Honorable Jon Runyan has been named their Chairman of the Board. The Wish Upon A Hero Foundation, Inc., (WUAHF), a not for profit organization, is committed to educating and supporting the public, its Hero Clubs, in particular our youth, in the area of dynamic philanthropy: i.e., making a positive, exponential difference through funding, inspiring and advising educational, entrepreneurial and community initiatives.
Runyan will focus on giving active direction and exercise oversight pertaining to all affairs of Wish Upon a Hero Foundation whose four cornerstones are education, philanthropy, community and personal fulfillment. He will also be working with his impressive Board of Directors to build an educationally based curriculum that will serve to connect, inspire and advance Hero Clubs to become the future leader in youth philanthropy.
Runyan states, "In my new role as Chairman for the Wish Upon A Hero Foundation I am excited to serve the public, especially by contributing to a philanthropic educational curriculum along with working with young people who are making a direct and positive impact. There are a multitude of lifelong benefits when belonging to a Hero Club. It is my hope to build thousands of Hero Clubs across the country where we will impact the masses."
Runyan has served as a Member of the United States House of Representatives from January 2011 until January 2015 where he represented New Jersey's Third Congressional District. Congressman Runyan served his constituency on three key committees: the Armed Services Committee, the Veterans Affairs Committee, and the Natural Resources Committee. Runyan also had a successful career as an NFL star from 1996 until he retired in 2010.
Jon is heavily involved in numerous charities and organizations that benefit the South Jersey/Philadelphia area, including the New Jersey Special Olympics, the American Red Cross, the Juvenile Diabetes Foundation, the USO, the Armed Forces Freedom Ride and Habitat for Humanity. He also served on the Board of the Alzheimer's Association of the Delaware Valley.
Runyan is joined on the Executive Board by Executive Director, Anne Gutos, Vice Chairman, Peter Fong, Treasurer, John Kushnir, Secretary, Barbara McGinley Nesbitt and Legal Chair, John Robertson, Esq. as well as an 11 seat Board of Directors whom you can locate on the foundation's website, http://www.wishuponahero.org.