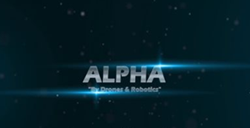 Drones Robotics plans to make this type of robot available in industries such as hospitals, warehouses, airports, construction sites and even department stores
Beverly Hills, CA (PRWEB) July 11, 2014
The Alpha Robot is a project which is currently being run by Drones Robotics. Their main goal is to create a robot to do various chores, mainly those which are difficult for humans due to physical restrictions. The robot will be able to do much of the "heavy lifting"that is required in many different industries. They are hoping to eliminate the need for manual labor when it would be either difficult or impossible for a person to do it. According to the company this will help to increase productivity and reduce workplace injuries.
The robot has many uses and will be manufactured in many forms. For instance, companies who are not only in need of a device that can do heavy lifting but who also require products to be raised up will be able to purchase the scissor lift platform Alpha. Film crews will be able to use Alpha as a dolly in order to transport equipment from site to site, no matter how rough the terrain. The robot's built in cameras, GPS and various sensors will also allow the operator to easily control and maneuver the device as well as provide them with insight as to where and what the robot is doing.
"In time Alpha will even be able to do chores such as stock shelves at a supermarket, by integrating with your inventory the robot will know which isle to go to and re-stock,"says a representative from Drones Robotics.
Drones Robotics plans to make this type of robot available in industries such as hospitals, warehouses, airports, construction sites and even department stores. In order to function in these environments, the Alpha robot will require much more sophisticated software which is why Drones Robotics is currently launching a crowdfunding campaign on Indiegogo. The funding from this campaign will be mainly used for engineering, creating and improving software and manufacturing the finished product. Contributors to the project will be rewarded with certain perks that are listed on the campaign page.
The company admits that as of right now, the main issue they are dealing with is software related. A spokesperson from Drones Robotics was quoted as saying, "Integrating the Artificial intelligent component with the hardware that will be future proof and upgradeable is our major hurdle and will take time but with extra funding we can acquire additional resources that can eliminate this dilemma all together,"Unfortunately, the software is one of the most important aspects of the project.
If all goes well for Alpha and Drones Robotics, they plan on starting production of these robots early in 2015 and could begin shipping them out to customers as early as October of that same year. This is all of course dependent on he amount of funds which are raised in their crowdsourcing campaign.
Contact Information
Drone Robotics
269 S. Beverly Blvd
Beverly Hills, CA 90212
Phone No: 0423736279