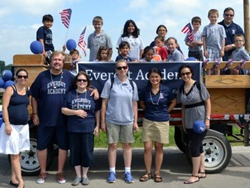 Lemont, IL (PRWEB) July 11, 2014
Wearing the school motto on their shirts, students from Everest Academy of Lemont, their families, facility and staff came together this past Saturday morning ready to wave, smile and promote their school and the Everest community in the Homer Township Independence Day Parade. The theme of this year's parade was A Salute to Old Glory.
Everest community recognized the theme of A Salute to Old Glory by decorating their float in red, white and blue. The blue Everest balloons filled with helium and alluded to Semper Altius, the school's motto, which means Always Higher.
As Everest Academy has grown over the past five years, the Homer Township parade has been a great vehicle for the school to promote and raise awareness of its mission which is to educate and form strong Christian leaders.
Everest parents handed out pencils and flyers, pushing strollers and pulling wagons of young students and young siblings, chatting with the crowds as they marched. Many parade viewers recognized neighbors and friends marching with Everest, as numerous families from Homer Glen attend Everest Academy. Everest students delighted the crowds with the use of water accessories particularly super soakers. On Saturday, a hot day like many past parades, some in the crowd asked the students to douse them with cool water. The popular super soakers send the water straight up high into the air, where it seems to pause for a moment as it changes direction and comes down on to the hot crowd! This interaction contributed to the parade's small town, neighborhood feel and is part of what has made the event an endearing summer tradition for the Everest community and many other families.
Everest Academy is an independent Roman Catholic school in Lemont educating children from pre-kindergarten through eighth grade. The teachers and staff are dedicated to forming the whole child by providing the highest level of academics, by building strong character, and by preparing generous leaders ready to serve the community. To learn more about Everest Academy's approach to education, please contact KC Wollenberg at 630-243-1995 or visit http://www.everestadvantage.org.