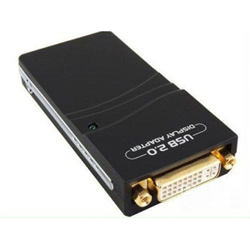 (PRWEB) July 11, 2014
Hiconn Electronics is one of the most outstanding computer accessory manufacturers in the world. Recently, the company has updated its website with a new USB 2.0 to DVI Adapter promotion. It is a great opportunity for clients who want to buy top quality adapters in this great shopping season.
"We always launch special offers for old and new customers. All our new USB 2.0 to DVI Adapters are of top quality; we highly recommend these excellent designs to the global clients. Also, we are now offering cheap HDMI to Mini DisplayPort Cables, VGA+R/L Audio to HDMI Converters and HDMI to VGA+R/L Audio converters. You can find a lot of affordable accessories on our website," the company's chief executive officer says.
The followings are some details of the USB 2.0 to DVI Adapters from Hiconn Electronics:
--Video output with DVI connector
--Support function: 1. Primary 2.Extended 3.Mirror
--Easily connect additional monitors by using a USB 2.0 cable
--Simple to install & use
--Quickly add up to six displays to a desktop or PC with minimal configuration & without an additional graphics card
---Mirror or extend a computer display workspace
--Support resolution up to 1280x1024, 1400x1050 at 32 bit color
What's more, the company's updated website is easier to navigate. Clients worldwide can find what they want in a more efficient way. Along with the big discounts, Hiconn Electronics also provides extra coupons to frequent callers.
About Hiconn Electronics
Hiconn Electronics (Shenzhen Hiconn Electronics Co. Ltd.) is devoted to designing and manufacturing a wide range of connection cables and customized cable assemblies, offering many HDMI cables, VGA cables, SATA cables, USB cables, 1394 cables, DVI cables, SCSI (Small Computer System Interface) and more. For more information, please visit http://www.hiconn.net/.
Contact Person: James Yin (Sales Director)
Company Name: Shenzhen Hiconn Electronics Co., Ltd.
Address: Shenghua Building., Xixiang Road., Baoan District, Shenzhen, Guangdong Province, China
Zip Code: 518102
Tel: +86-755-8109 8345
Fax:+86-755-2779 3497