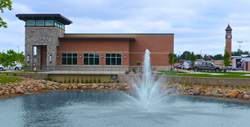 The Fountains is a wonderful addition to this area and has already been acknowledged for its contribution to the community. We are very proud of this project and look ahead towards more like it in the near future.
Cedar Rapids, IA (PRWEB) July 23, 2014
The Fountains complex, a 6-building, 19+ acre lot development in NE Cedar Rapids is growing daily and has already captured the community's attention because of its size, unique personality and collection of businesses that either already, or are scheduled to occupy the class-A buildings.
The first two retail buildings are complete and are occupied except for the two spacious end-cap suites that are still available for rent. These suites overlook the landscaped pond and fountain and have been designed for upscale restaurants with extensive outdoor patio space. The fountain where the development gets its name was installed earlier this summer and is fully operational, providing relaxing views from both patios. Businesses that are already enjoying immediate exposure and success by their newest locations include: Jimmy Johns, Olive's Oil, Red Wing Shoes and Pepperjax Grill.
Retail Building #3 is on target to have space available as early as October of this year and will include Burst Cycle, a spin studio that features the very latest in exercise fad and fashion. This facility will exclusively offer spin classes ranging in different endurance and difficulty challenges for attendees of all levels. The upbeat, colorful and lively environment will contribute to The Fountain's overall individuality.
Several office tenants are currently also in negotiation and will soon initiate their build-outs in the first office building within the complex.
The Fountains is an extensively involved project that has been under construction since April of 2013, but ideas and negotiations began long before the first shovel broke ground. Compass Commercial Services is proud to develop and present this complex to the community to meet a strong need in the area for further commercial growth and additional class A rental space.
About Compass Commercial Services:
Compass Commercial Services is a full-service General Contracting and Construction Management firm in the Cedar Rapids area specializing in a wide range of commercial construction projects including interior and exterior renovations, remodeling, building additions and the complete construction of new buildings. As a TRUE design-build firm, Compass Commercial Services is poised to complete projects from the ground up. From the initial design through the entire building process, customers have the advantage of working directly with one company, and a team that is structured to deliver final projects on time, and on budget.