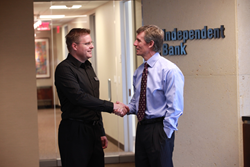 These great new initiatives ... are part of our mission to continue to enlarge and grow our chaplain service to meet the new challenges of technology in the 21st Century, Richard S. De Witt, Executive President and COO of Marketplace Chaplains
Plano, Texas (PRWEB) July 14, 2014
21st Century Technology Drives Leading Workplace Chaplaincy Provider to New Measures
Marketplace Chaplains, the nation's original and largest workplace chaplaincy organization, has embraced the growing American business trend of increased leading edge technology as it seeks to make it easier for clients, employees and family members using the unique workplace service.
Among the many initiatives being tested by Marketplace Chaplains is a smartphone computer application titled "MyChap," which is now available on the App Store, allowing client company employees to contact their specifically assigned chaplains to their location via phone, text or email, for help with a personal problem, report a crisis or crises, request a face-to-face meeting, or ask for a resource just by launching the application from their phone.
The application is currently being beta tested by two East Coast Marketplace Chaplains' client companies and is getting ready for a national rollout in the fourth quarter of 2014.
Increased cutting edge technology is a growing trend for American businesses nationwide as they seek to increase ease of service and ultimately their bottom line, according to a nationally known technology expert. "Improved performance from a new system will have an impact on your organization that can be frequently translated into decreased costs and increased earnings, stemming from improved customer service, quicker turnaround, a reduction in the number of days for accounts receivable and higher inventory turnover," said Marjorie Adams, President and CEO of AQB, 1 a business process & software consulting firm that improves the efficiency of client accounting departments in an article written for American Express publications.
Another focus for Marketplace Chaplains, already being implemented nationally, is Connect Care. By making proactive phone calls, emails and texts, along with providing exciting monthly newsletters containing topic specific or other related items of interest, encouragement, and coping skill resources, specifically trained chaplains are able to connect with the growing number of remote employees.
A full-time Connect Care Director, Chaplain Steve Bateman, is in place to oversee and manage valuable and reliable care for every remote employee not covered by chaplains making regularly scheduled worksite visits to locations where the majority of employees work each day. The new measure is bringing awareness and building bridges to relationships of trust and confidence whereby remote employees are already utilizing the Chaplain Connect Care at an increasing rate.
A third new measure which was implemented in the first quarter of 2014, is the WorkLife Growth Series (WLGS) and is being widely utilized throughout the United States at Marketplace client companies. The topical resources prepared by our training department are providing another means for chaplains to connect with more employees through a brief lunch and learn or short presentation format. The topics are usually decided upon during a client report review where there are unusually high numbers of a specific issue being reported by the Chaplain Care Team at a specific location. For example, if stress was unusually high one reporting period, the leader of the company might select the WLGS titled, "Managing the Stress Caused by Workplace Change." There are more than 25 topics currently available in the WorkLife series.
In an effort to propagate its continual improvement processes, Marketplace Chaplains is currently using a third party, personal survey system to highlight areas of need and concern, as well as many praises for the chaplain services in individual companies which may not come up in face-to-face meetings.
"These great new initiatives which our company has invested a considerable amount of resources and time developing, are part of our mission to continue to enlarge and grow our chaplain service to meet the new challenges of technology in the 21st Century, while continuing to meet the in-person hurts and the hopes of the thousands of employees and family members we serve each day in the workplace," said Richard S. De Witt, Executive President and COO of Marketplace Chaplains.
Marketplace Chaplains, celebrating its 30th Anniversary, currently serves 608 clients at 3,208 service locations, in 1,022 cities, 5 foreign countries and 1 commonwealth, caring for over half a million employees and their family members in today's workplace.
For more information on this employee benefit which has been featured with NBC Nightly News, and in the Washington Post, the New York Times and Bloomberg BusinessWeek, visit http://www.mchapusa.com.
About Marketplace Chaplains
To arrange an interview with a Marketplace Chaplain, contact Art Stricklin, Vice President Public Relations, at artstricklin@mchapusa.com or call 1-800-775-7657.
References:
1 https://www.americanexpress.com/us/small-business/openforum/articles/can-enterprise-technology-boost-your-business/