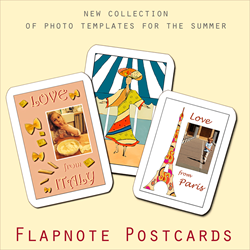 A postcard must be a pleasure for the person who receives it and for the one who sends it.
Paris, France (PRWEB) July 15, 2014
Flapnote Postcards has created a new collection of photo templates for people interested in sending holiday photos as paper postcards, allowing them to do so with a sense of creativity, a sense of humor, and a sense of simplicity.
"There is an increasing demand for customizable paper postcards," said Coline Clement, founder of Flapnote (http://www.flapnote.com) and postcards publisher. "People feel like sending their photos as postcards, and they want their cards to look special and different. A photo template allows them to add a certain artistic touch to their cards, and in the same the template itself conveys a friendly message."
This is why after expanding her postcards publishing activity to the Internet, Coline Clement decided to broaden Flapnote Postcards offer with a collection of photo templates one can customize and send from any mobile device or computer.
The way it works is simple. One browses the photo templates collection, chooses a design and uploads a photo. Then one writes a personal message and the recipient's address that will be printed on the back of the card, and this is it. As soon as Flapnote receives the order, the card is printed on a retro style postcard paper with rounded corners, and mailed the same day.
For those who will be traveling this summer, there is a range of "Love from…" photo templates they can personalize with their photos, and turn a touristic souvenir into something special one might want to keep.
For those who like to send amusing photos, there are humoristic templates like "Love from a silly person" to be customized with a silly photo. And for those who simply want to share a nice moment with their friends, there's still a possibility to send photos as plain postcards, with the same quality of printing and paper.
With its new photo templates collection Flapnote Postcards enables its customers to share their photos as paper postcards in a more creative way, with the same ease and the same quality.
"A postcard must be a pleasure for the person who receives it and for the one who sends it" said Coline Clement.
About Flapnote Postcards
Flapnote Postcards brings its expertise on graphic design and paper postcards to the Internet with an intuitive website that allows people to send creative paper postcards, with their messages and their photos, to any destination in the world, via any mobile device or computer.
Flapnote Postcards is privately funded, and is based in Paris.
For more information, visit http://www.flapnote.com.