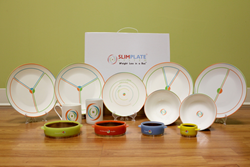 It triggers weight loss without any fad dieting or fasting, and it is designed to help slimmers keep the weight off for good.
Rock Hill, South Carolina (PRWEB) July 22, 2014
One woman who looked at diet pills as a short-term weight loss solution managed to lose 20 pounds. Unfortunately, the weight loss came at a price – she felt dizzy, shaky and nauseated for the duration of her time using the pill, and says her personality changed from easy-going to 'manic'. One woman experienced heart flutters and insomnia as a result of the caffeine content of one pill, while another woman experienced a heart attack at the age of 37 because of a diet pill she was taking.
Now experts are coming forward to invoke a move away from these controversial pills, towards healthier and safer options. A spokesman for SlimPlate System, a portion control method that facilitates and sustained weight loss without chemicals or additives, says, "The experiences that these women have undergone are not isolated incidents – many people have suffered adverse effects at the hands of diet pills and weight loss chemicals. SlimPlate System is a simple and proven method of losing weight, approved by the physicians who designed it. It triggers weight loss without any fad dieting or fasting, and it is designed to help slimmers keep the weight off for good."
With a third of the world's population now classed as overweight, more and more people are becoming desperate to drop pounds and simultaneously drop out of the 'obese' category. This often results in them turning to unproven methods that promise drastic results.
SlimPlate System promises realistic results for those who follow the plan. Within the first three months, the average weight loss of someone using the SlimPlate System is between 14lbs – 22lbs, a fantastic kick-start for someone who is overweight or obese. The four-step plan then continues to contribute to weight loss through different plates, cups and bowls, limiting portions and controlling how much is consumed.
There are a multitude of benefits to the SlimPlate System, including the ability to include all food groups and types; many meal plans and fad diets encourage slimmers to cut out a certain food group or avoid specific foods at all costs. With SlimPlate System, everything goes, as long as it fits within the confines of the portion control plates. Maligned white carbs, vilified red meats and even tasty desserts are back on the menu – and users can still achieve the weight loss they want without popping a pill or consuming tablets with controversial or banned ingredients.
To find out more about SlimPlate System, visit the website: http://www.slimplatesystem.com/.
About SlimPlate System:
SlimPlate System is a four-stage weight loss program that shuns deprivation for portion control. The system, which has been designed by physicians and proven by research, is easy to implement and maintain, with no calorie counting, costly supplements or juice fads.