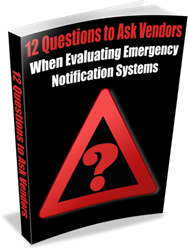 Choosing the right Emergency Notification System is critical in order to protect both staff and the continuity of operations.
San Francisco CA (PRWEB) July 15, 2014
With the increased demand for effective emergency communications, the industry has experienced tremendous growth, and there are now a multitude of providers offering what at first glance appears to be very similar services. Regroup's latest white paper entitled "12 Questions to Ask Vendors When Evaluating Emergency Notification Systems," was designed to help organizations cut through a salesperson's hype by knowing the fundamental questions to ask during the evaluation process.
The white paper can be downloaded by clicking this link: http://bit.ly/1mPqOz3.
Choosing the right Emergency Notification System is critical in order to protect both staff people and the continuity of operations. With that in mind, Regroup published this white paper as a guide to help organizations make the right choice for their emergency communication needs.
After reading Regroup's white paper, readers will be able to more accurately:

Gauge a system's ease of use and functionality
Calculate if the system's cost and capabilities will generate ROI
Determine if the system will meet their immediate and long-term communication needs
Finding the right emergency communication solution doesn't have to be overwhelming - decision makers simply need to know which questions to ask. Regroup's white paper will provide them with those tough questions so they will be better assured that the Emergency Notification System chosen will be the right choice and not a costly mistake.
About Regroup:
Regroup, the leading Emergency Notification and Incident Management System, was founded at Stanford University in 2006 to solve the university's need for more effective mass messaging across multiple communication channels; i.e., mobile devices (text/voice), land-lines, email, social media, websites, forums and more. Regroup stands apart from other emergency and mass communication systems with its user-friendly, one-click messaging from a unified communications dashboard, seamless integration with social media and client databases, real-time two-way messaging capabilities, unparalleled reliability, and unlimited text/voice/email messaging.
Regroup offers 24/7/365 days a year live support and saves clients money – on average 50%. Currently serving government clients such as the City & County of San Francisco, universities, non-profits, and businesses throughout North America, Regroup is actively expanding in global markets.
To learn more about Regroup's Emergency Communication and Mass Notification System, contact us at 917-746-6776 or email inquiries(at)regroup(dot)com. You may also sign up for a free demo to see Regroup in action and learn how we can streamline both your day-to-day and crisis communications.