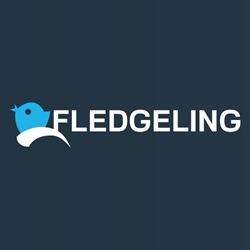 A resume doesn't just build a case for your job skills...
Reston, VA (PRWEB) July 11, 2014
Young jobseekers face an overwhelming task in today's competitive job market. The idea of competing against seasoned professionals with curated resumes is a daunting task. But a new career building service called Fledgeling is pledging to be the solution to this problem for young graduates.
Although there are many resources and tools on the website, Fledgeling takes pains not to over-whelm. The first thing a new visitor is guided to is the interactive resume creator. This tool is a simple, intuitive way for a jobseeker to get over one of the biggest job-hunting hurdles and get started on the path to a rewarding career.
For a recent grad with little-to-no work experience in their field of choice, it might seem like creating a resume can only highlight that deficiency. Not so, according to Richard Wainwright, Product Manager for Fledgeling.
"A resume doesn't just build a case for your job skills. It also builds a case for your character. With that in mind, we encourage jobseekers to use our Resume Builder tool, which includes your volunteer experience as well as leadership roles in school or in the community." The resume, once completed, is easily downloadable and can be saved on the user's computer.
A resume is only the first step, of course. "Job hunting is a skillset, just like any other," according to Wainwright. "You should research and explore the field, then discipline yourself to learn the skills you'll need in order to find and acquire the job you want." That's why Fledgeling offers a plethora of resources and tools for job hunters.
Fledgeling's blog is a clearinghouse for all kinds of career-related information: interviews and transcripts with recruiters, advice from interviewers and industry experts, as well as articles related to every aspect of the job hunt. The tools on Fledgeling allow for sophisticated filtering to enable job-seekers to look for jobs that fit their schedule. It also employs specialized profiles to allow users to make the switch from hunting for a bartending job in the short term, and a career in their chosen field in the long-term.
About Fledgeling
Fledgeling is an innovative and advanced job search and hiring platform that connects job seekers and employers, making it easy to find the right individual to fit your needs. To post a job or a jobseeker profile, visit http://www.fledgeling.us.