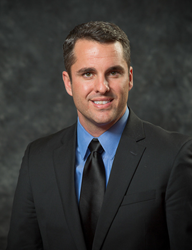 "We feel our vision aligns perfectly with Sperry Van Ness. They provide the tools and foundation that we need in order to grow and reach our goals. We look forward to a long lasting relationship."- Ford Elliott, Managing Director
Boston, MA (PRWEB) July 11, 2014
Sperry Van Ness International Corporation (SVNIC), a commercial real estate services franchisor, is proud to announce the addition of its newest franchise office, Sperry Van Ness/Blackstream Commercial, LLC in Greenville, South Carolina. Led by Managing Directors Ford Elliott and Carlos Salgado, the organization will focus on full-service commercial real estate brokerage, sales, leasing and property management services in Greenville, SC with divisions in Columbia, SC and Asheville, NC.
Elliott and Salgado have more than 10-years experience in the commercial real estate industry across all asset types. They have assembled a team of top Advisors who continue to provide commercial real estate services to national investment funds, regional property owners and local experienced investors and owners through a client-focused business model. The team at Sperry Van Ness/Blackstream Commercial, LLC is now looking to use the revolutionary SVNIC compensated cooperation platform and transparency in listings to become a recognized leader in the area's highly competitive brokerage industry.
"We feel our vision aligns perfectly with Sperry Van Ness," says Managing Director Ford Elliot. "SVNIC provides the tools and foundation that we need in order to grow and reach our goals. We look forward to a long lasting relationship."
SVNIC is the only commercial real estate firm that markets all of its properties nationally to a 100,000-member brokerage and investment community. Producing $8.1 billion in sales and leasing transactions in 2013, SVNIC shared commission fees with co-operating brokers approximately 80 percent of those transactions. Working with its own competitors to bring the highest bidder to the table allows SVN Advisors to see gains from closing more deals in less time. Advisors also reap the benefits of the SVNIC cloud-based enterprise system that enables easy, on-the-go access to property listings and client contacts; real-time data sharing; and software that allows for the assembly of professional proposals and marketing materials.
To learn more about becoming an SVNIC commercial real estate business owner, visit http://www.svn.com.
For more information about Sperry Van Ness/Blackstream Commercial, LLC, visit http://www.svnblackstream.com.
About Sperry Van Ness International Corporation
Sperry Van Ness International Corporation (SVNIC), a commercial real estate brokerage franchisor, is one of commercial real estate's most recognized brands, based on the annual Lipsey Survey. The SVN® Organization includes more than 180 locations in 200 markets. With headquarters in Boston, Mass., SVN Commercial Real Estate Advisors provide brokerage, tenant representation, consultation, asset management, property management, and leasing, accelerated marketing and auction services. SVN Advisors represent clients in office, multifamily, retail, industrial, self-storage, hospitality, marina and land transactions, charter schools, corporate real estate, and medical offices. All SVNIC offices are independently owned and operated. For more information, go to http://www.svn.com.
###
Contact
Maggie Flaherty
VP of Marketing, SVNIC
617.413.0466
maggie.flaherty(at)svn(dot)com