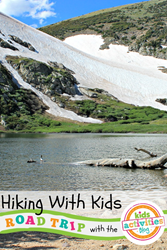 Visit an area that looks like the movie Frozen with the kids this summer in Colorado.
Dallas, Texas (PRWEB) July 12, 2014
Summer time is time for family hiking road trips. Hiking tips with kids and deep cleaning hacks for Moms have been released on Kids Activities Blog. Seasoned Moms are sharing their insights into hiking in Denver, Colorado and deep cleaning the entire house.
Hiking with kids can be a challenge. Selecting just the right path is key for a fun outing. The Lookout Mountain about 40 minutes West of Denver, Colorado, provides a wide range of enjoyment.
The Lookout Mountain provides something for the nature loving child who would like to experience all different types of ecosystems, the meadows, the forests, lakes, and peaks. The less than a mile hike is perfect for even 4 year olds.
Do not forget to check out the nature center at the Lookout Mountain. The nature center provides a perfect background on all the animals in the area.
St. Mary's Glacier makes a perfect destination for Frozen loving kids. Take the towels and lots of sweaters if the kids want to take a dip in the glacier water.
Moms are short on time. Seasoned Moms are sharing great time saving tips to deep clean the house without fancy products. These cleaning hacks will help one get the most out of the time and wallet.
The 18 tips include making a cleaning schedule and sticking to it. Pillow cases are a great way to clean the dust on the ceiling fans.
If the Legos have a dirt ridge around them put them in a lingerie bag and wash them in the clothes washer.
Lemons and salt are all what one needs to make stainless steel sink shine. Wipe the sink with a cut up lemon and salt to make it sparkle. Afterwards chop up the lemon and run it through the garbage disposal. The garbage disposal will be clean and the kitchen will smell wonderful.
For detailed instructions and to get additional fun tips, check out Kids Activities Blog this week. Come get inspired to create fun memories this summer together with the kids.
About Kids Activities Blog
Kids Activities Blog is a website created by two moms (who collectively have 9 children), Holly Homer and Rachel Miller. Their new book was published this spring by Page Street, 101 Kids Activities That Are the Bestest, Funnest Ever! Kids Activities Blog is an interactive website that publishes fun things to do with kids twice a day. It is an amazing resource for moms, dads, grandparents, caregivers and teachers to find kid-friendly activities that create memories and sneak learning into the fun.