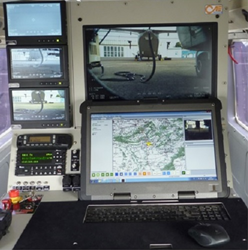 We have developed some powerful new features [...], including the ability to show marked positions, routes, areas of interest, and street address data on the live video feed as well as the moving map display
Halifax, Nova Scotia (PRWEB) July 14, 2014
CarteNav Solutions Inc. is gearing up for a busy show at Farnborough in the UK this week.
The Halifax-based company will be exhibiting in the Canada Pavilion, Hall 4, at Farnborough 2014 (http://www.farnborough.com/trade) demonstrating the most recent features of its cutting-edge intelligence, surveillance, and reconnaissance (ISR) software solutions to the defence and aerospace community, and their practical application in land, air, or maritime environments.
"We've had another busy year this year, and I'm excited to discuss significant new features with government, industry, and military personnel in the coming months," said Paul Evans, CarteNav's COO.
"We have developed some powerful new features for our software, including the ability to show marked positions, routes, areas of interest, and street address data on the live video feed as well as the moving map display.
AIMS-ISR® http://cartenav.com/index.php/solutions/products is a powerful software solution and offers outstanding benefits for many different mission types around the world," he continued.
Recent improvements in our terrain modelling and mission management tools have enhanced an already cost-effective solution that creates significant efficiencies for our users," concluded Mr. Evans.
Over the past twelve months, CarteNav has secured sales with new clients in the UK, Europe, Africa, SE Asia, and Latin America, and the company intends to use this experience to broaden its presence in the marketplace.
About Farnborough:
The Farnborough International Airshow prides itself on facilitating first-class business opportunities for the global aerospace industry. As one of the world's largest exhibitions and air displays, the show provides a wealth of dedicated and focused business platforms.
About CarteNav Solutions Inc.
CarteNav Solutions Inc. is an international leader in mission-management and sensor-integration software solutions for the maritime, land, and air environments. Founded in 2002, CarteNav offers operationally proven data integration and display technologies that dramatically improve performance of both sensor operators and tactical decision makers. The company has established a reputation for providing sought-after and high-value software solutions to meet short timeframes at attractive price points.