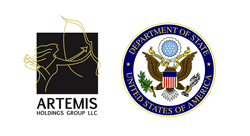 I am honored to have a part on the State Department's outreach and assist Portuguese businesses through a promising recovery.
Washington, DC (PRWEB) July 14, 2014
Sheri L. Orlowitz, Founding Partner of Artemis Holdings Group, LLC, one of the few women-owned private investment firms in the U.S., has been tapped to be a member of the U.S. Department of State's Global Entrepreneurship Program's delegation to Portugal. Ms. Orlowitz will join ten other prominent U.S. investors and role-model entrepreneurs to meet with senior Portuguese officials and the Portuguese private sector to discuss the key entrepreneurial opportunities and challenges for the country.
Sheri is thrilled about the opportunity to work with Portuguese companies in various sectors to help them build their businesses and access capital. She brings investment dollars and a wealth of contacts in the private equity industry and looks forward to learning about the businesses and their capital needs. She also looks forward to working with Portuguese firms to export into the robust US market.
Ms. Orlowitz recently traveled to Greece with the State Department and will return immediately after Portugal as she builds momentum for a Greek Opportunities Fund. "Certainly Greece is an exciting value play offering an excellent investment opportunity, and I look forward to assessing Portugal's valuations as well."
About Sheri L. Orlowitz:
Sheri Orlowitz is the Founding Partner of Artemis Holdings Group LLC. Artemis is an international private investment and advisory firm providing individuals, entrepreneurs, and companies with creative strategies and unconventional perspectives to identify and realize their business goals. In total, Sheri has acquired and operated eight domestic and international manufacturing, sales and services companies ranging in size from $5 million to $70 million.
Previously, Ms. Orlowitz presided over Shan Industries, and developed it into a multi-site manufacturing company through the acquisition of two divisions of Tyco International. Before that, Ms. Orlowitz was Chief Executive of DBI, a $70 million international consortium of manufacturing companies with sales offices throughout Europe, the US and China. In addition to participating in DBI's acquisition of manufacturing businesses from Applied Magnetics, Quantum Corp., Hewlett-Packard, Eastman Kodak and other Fortune 500 companies, she actively led the operations of each of the acquired businesses. Sheri has been the recipient of numerous awards, not only for entrepreneurial spirit, innovation and growth but also for significant government and philanthropic service, including establishing the Orlowitz-Lee Center in Miami, which provides comprehensive services for abused and trafficked children.
About The State Department's Global Entrepreneurship Program:
The Global Entrepreneurship Program (GEP) is a U.S. State Department-led effort to promote and spur entrepreneurship by catalyzing and coordinating private sector and U.S. Government programs to support entrepreneurs around the world. It benefits Americans by developing new markets for U.S. goods and services abroad, diversifying the U.S. supply chain to a greater number of countries, encourages direct foreign investment into the United States, and creates a more stable world by bolstering global economic prosperity.
Since 2010, GEP has led entrepreneurship delegations to Jordan, Lebanon, Egypt, Indonesia, Morocco, Tunisia, Algeria, Turkey and Greece. Please visit http://www.state.gov for more information.