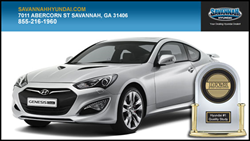 Savannah Hyundai is so proud to be in the same league as premium autos dealers like Porsche, Jaguar and Lexus! - Mark Medinger, Owner - Savannah Hyundai
Savannah, GA (PRWEB) July 13, 2014
Savannah Hyundai, Georgia's flagship Hyundai dealer, is proud to announce that Hyundai once again ranks #1 amongst mass market automakers for the third time by JD Power and Associates. "We finished first amongst brands like Toyota, Honda, and Chevrolet. And we were fourth behind premium automakers Porsche, Jaguar, and Lexus," says Mark Medinger, owner of Savannah Hyundai.
Hyundai is the top non-premium choice of JD Power and Associates. This month JD Power revealed the results of its 2014 Initial Quality Study. Savannah Hyundai is celebrating their brand with new and pre-owned specials. "We have a great inventory of the three cars ranked highest in the study: the 2014 Hyundai Accent, Elantra and Genesis," says Medinger.
The Initial Quality Study (IQS) is something that JD Power puts out every year. They have been ranking vehicles for the last 28 years according to their website. It differs from their Vehicle Dependability study which measure problems experienced after three years of ownership. The JD Power Initial Quality Study only examines problems experienced in the first 90 days of ownership. The average score for 2014 vehicles is 116 problems per 100 vehicles (116 PP100). Hyundai has an impressive average of 94 PP100. That's 22 points better than average!
The vehicles that impressed JD Power the most were the 2014 Hyundai Elantra, Accent and Genesis. Together with their sister brand, KIA, Hyundai Kia Motors ranked highest in 5 segments of the IQS.
The 2014 Hyundai Accent took the top spot in the Small Car segment of the study. It competed with other vehicles like the 2014 Chevrolet Sonic, Ford Fiesta, Honda Fit, Kia Rio, Mazda 2, Nissan Versa, and Toyota Yaris. "The Accent stands out because it is really roomy and has a lot of oomph from such a small car," says Medinger, owner of Savannah Hyundai.
The 2014 Hyundai Elantra was picked as the #1 vehicle in the Comapct Car segment. The Hyundai Elantra was compared to 2014 Chevrolet Cruze, Dodge Dart, Ford Focus, Honda Civic, Kia Forte, Mazda 3, Nissan Sentra, Subaru Impreza, Toyota Corolla, and Volkswagen Jetta. "The Elantra comes in a variety of trims: 2-door coupe, 5-door hatchback, or 4 door sedan- which is the most popular," explains Medinger.
The 2014 Hyundai Genesis was the stand out in the Midsize Premium segment. The 2014 Hyundai Genesis beat others in this segment including the 2014 Lincoln MKS sedan, BMW 640i, BMW 650i, and Lexus GS 350 and 450h. "The Hyundai Genesis is sure to impress even the most discerning of drivers," says Medinger.
Savannah Hyundai currently has several 2014 models on their lot. They are located at 7011 Abercorn St Savannah, GA 31406 or visit their website for the latest inventory http://www.savannahhyundai.com. They serve the entire Chatham County area including Ft. Stewart, Rincon, Statesboro, Blufton, and Hilton Head.