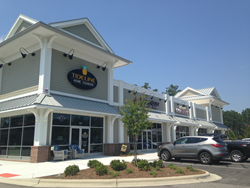 Best Walkable Neighborhoods in North Carolina
Wilmington, North Carolina (PRWEB) July 15, 2014
The Villages at Brunswick Forest located just inside the entrance of the Coastal South's fastest growing master-planned community in Wilmington North Carolina has welcomed a new line up of businesses.
TIDELINE HOME FASHIONS - Tideline Home Fashions brings a bountiful selection of home décor fabrics and accessories to the convenient shopping and professional services complex.
JORDANBUILT HOMES - JordanBuilt Homes has been building luxury homes and town homes in the Raleigh area for 20+ years and its location in The Villages offers a beautiful selection center for its clients.
HOLLYWOOD NAILS - A nail salon complete with the latest technology and perfect for pampering.
BESSIE BURGER - Bessie Burger specializes in 100% certified angus ground chuck burgers and will be opening in the fall.
These businesses join many others, including medical and health facilities, as the 500,000 square feet town center continues to grow. Here, running errands isn't a chore for Brunswick Forest residents – it's an opportunity for an enjoyable bike ride or walk to The Villages and back. For Baby Boomers who desire an active, healthy, and more ecologically sound lifestyle, the ability to walk or pedal to shopping areas instead of driving is very appealing and commonly requested. Doctor visits and routine medical care are readily available at New Hanover Regional Medical Center's 40,000 square foot facility in The Villages. Pick up a prescription, drop by the bank, stop to chat with neighbors, meet a friend for lunch, pop into the grocery store for tomatoes, and never even leave your community when you live in one of the best walking neighborhoods in North Carolina. The Villages town center is accessible via bike trails and walking paths from virtually all of Brunswick Forest homes.
Brunswick Forest is an environmentally sensitive planned community conveniently situated only 10 minutes south of downtown Wilmington, North Carolina. With distinctive neighborhoods, 100 miles of paved and unpaved walking and biking trails, curbed streets, sidewalks, and well-kept community gardens and parks, Brunswick Forest residents enjoy living in some of the most beautiful walking neighborhoods . Nature abounds within the surrounding forests, rivers, and barrier islands, and residents of all ages can enjoy a wide variety of outdoor activities including canoeing, kayaking, and fishing with a floating dock and boat launch at the River Club on Town Creek. Brunswick Forest recently celebrated the opening of its 3rd swimming pool.
Golfers can reserve a tee time at the Tim Cate-designed 18-hole championship Cape Fear National golf course, and everyone will enjoy casual but delicious dining at The Forest restaurant in the 7,000 square foot golf clubhouse. Other active lifestyle amenities include an 18,000 square foot fitness and comprehensive wellness center with steam rooms, personal trainers and a lounge. Five tennis courts, a sport court, and indoor and outdoor swimming pools round out an extensive Brunswick Forest amenity package.
For those who can't live without sun, sand and the sound of crashing waves, Brunswick County beaches are a short drive from Brunswick Forest, and Myrtle Beach, South Carolina, is just 45 minutes south of this fast-growing master-planned community in Wilmington North Carolina. Much of Brunswick Forest's popularity can be attributed to the sense of community and true neighborliness that binds residents, who often gather at the Community Commons for parties, festivals and events. The Community Commons includes meeting space, a kitchen, rose garden, sweeping lawn, and fishing pond with gazebo. There are many cultural and social opportunities, too, with an assortment of Brunswick Forest social clubs and leagues to choose from, and easy access to downtown Wilmington dining, the arts, and the University of North Carolina Wilmington.
Over 1,200 families are already enjoying the lifestyle in one of pedestrian and bike friendly Brunswick Forest non-gated neighborhoods. This 4,500 acre master-planned community Wilmington North Carolina area developer has local roots and features neighborhoods that offer a variety of architectural personalities with Brunswick Forest homes – from low or no maintenance townhomes and villas to single family and golf course lots – in styles to suit every taste. Florida-style villas, bungalow, cottages, neo-traditional homes, Carolina coastal or custom floor plans offer today's most popular amenities and luxury details from several quality builders.
Two award winning Wilmington North Carolina home builders, Bill Clark Homes and Logan Homes, are debuting new model homes at Brunswick Forest:
The AMELIA II by Logan Homes is built in the Hammocks at Shelmore neighborhood, which features lakeside living and a nostalgic air. Coastal, Low Country- inspired houses surrounded by nature welcome residents home. But don't let the traditional façades fool you – inside these homes are all the modern must-haves, such as open floor plans, luxurious master suites, and gourmet kitchens. The Amelia II is just such a home, with almost 2,500 square feet of thoughtful design, upscale features and superb craftsmanship. The three-bedroom, two and one half-bath home with optional flex space includes a screened porch, two-car garage, plenty of air-conditioned storage, and generously proportioned living areas. Logan Homes' high quality craftsmanship has garnered attention with awards such as the Builders Guild Guildmaster with Distinction in 2012 and the a place on the Brunswick County "Top 10 Builders" list for 2010, 2011, and 2013. One look at the mill work, French windows, decorative ceilings and wood floors in the beautiful Amelia II furnished model is enough to predict the popularity of this new Logan built floor plan in the Brunswick Forest homes collection. Logan Homes is also building in The Woodlands at Meadow Park, Walden, and Cape Fear National neighborhoods at Brunswick Forest. Each neighborhood has a distinctive feel and personality, offering a perfect lifestyle option for almost everyone.
The ADELAIDE is another eye-popping beauty, designed by Bill Clark Homes. For 30 years, Bill Clark Homes has been building quality construction in North Carolina, delivering value and excellent service to thousands of families. The builder's impeccable reputation has propelled growth, landing it on Builder magazine's list of Top 100 Homebuilders. The Adelaide, Bill Clark's newest model in Brunswick Forest, offers three bedrooms and three baths in over 2,600 square feet, with a two-car garage and inviting outdoor living areas. The cottage-styled design is open, light-filled and perfectly charming with tall ceilings, a fireplace, wood floors, and a magnificent master suite. Granite countertops grace the gourmet kitchen, which is open to dining and living areas – perfect for entertaining and family gatherings, and adaptable to a casual or formal lifestyle. With so many desirable features, the Adelaide is sure to be a top seller, along with other wonderful Bill Clark Homes floor plans being built throughout Brunswick Forest.
To see these beautiful new models and other fine homes, contact Brunswick Forest directly at (888) 371-2434 to arrange for a tour, or to schedule a relaxing three-day, two-night Discovery Package.
About Real Estate Scorecard:
Real Estate Scorecard writes unbiased real estate reviews providing in-depth information about popular gated communities in Florida, Georgia, North Carolina, South Carolina and Tennessee, all in an effort to help people discover where to retire in the Southeast.
Website: http://realestatescorecard.com