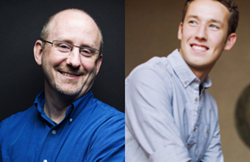 This was a great opportunity, allowing us to invest in ourselves with a home for the business that encourages creative collaboration and the free flow of ideas.
Appleton, WI (PRWEB) July 14, 2014
Weidert Group, Inc., an Appleton, WI-based full-service inbound marketing firm, recently announced the addition of Tim Holdsworth and Jamie Cartwright to its professional staff, to support the firm's continued growth.
Both Holdsworth and Cartwright joined the firm in June, though Cartwright, a June 2014 Lawrence University graduate, served as an intern with Weidert Group since 2012.
In his new position as project manager Holdsworth will be directly involved in supporting and analyzing inbound marketing activities for current Weidert Group clients. Holdsworth brings years of relevant experience to Weidert Group, having held marketing communications positions in a wide range of industries, including B2B manufacturing, education, and consulting. Holdsworth most recently served as marketing services manager for the University of Wisconsin-Oshkosh.
Cartwright joined Weidert Group as an intern in 2012, and his immediate contributions earned him a part-time position throughout his final 2 years of undergraduate work. As a senior at Lawrence Cartwright was a Rhodes Scholarship finalist, was elected to the Phi Beta Kappa honor society, and received the John H. Scidmore Memorial Award, voted on by his senior classmates.
In his new position as marketing manager Cartwright will be responsible for developing and executing Weidert Group's inbound marketing plans, and for keeping the firm at the forefront of the evolution in online marketing.
In a related development, Weidert Group shareholders purchased an existing office building in Appleton earlier this spring, and the business completed their move into the Eagle Flats riverfront site in April.
"This was a great opportunity," said Weidert Group president Greg Linnemanstons, "allowing us to invest in ourselves with a home for the business that encourages creative collaboration and the free flow of ideas. We're also excited to stay close to downtown Appleton while supporting an area that's just beginning a rebirth."
About Weidert Group
Weidert Group, founded in 1981, is a full-service inbound marketing agency and has been a Gold Certified HubSpot Agency Partner since 2011. HubSpot is the leading marketing automation software, with over 11,000 customers in 70 countries. Weidert Group provides all components of an effective inbound marketing effort, including web design, search engine optimization, content strategy, social media promotion, lead nurturing, and overall marketing management. Clients represent primarily business-to-business organizations in manufacturing, finance, consulting, distribution and other industries.