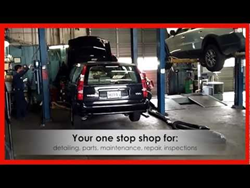 I have come to depend on Oskuie Service Center to care for my car and keep it running in good condition at a fair price. Prompt attention, expertise in the field, what more could I ask for? I heartily recommend A.J. and his company!
Washington DC (PRWEB) July 16, 2014
Oskuie Service Center Inc. recently released a new video describing their company's best practices. The video is meant to describe the business and services for Auto Repair Fairfax VA.
Oskuie Service Center, Inc. is an AAA-approved, full service auto repair facility specializing in Volvo, Volkswagen, Audi, BMW, and other fine imports. They also service Japanese and domestic vehicles and are a certified Virginia safety inspection and emissions testing station and also offer a state-of-the-art body repair and painting facility.
Oskuie Service Center is located in the city of Fairfax, Virginia. Ali Oskuie, owner and president, has been doing business in the city of Fairfax since 1964. Ted Komaromy, vice president and service manager, has worked with Ali for over 30 years. Their extensive knowledge in the automobile service industry provides keen insight into diagnosing and correcting service repairs. A.J. Oskuie, Ali's son, heads the used car sales division. A.J. strives for complete customer satisfaction and prides himself on his extensive repeat customer portfolio. Together, they provide an array of knowledge and personalized customer service that is unique and inviting.
Call Oskuie Service Center now at phone number (703) 273-8877 or visit them at their website at http://www.oskuie.net/ to know more.