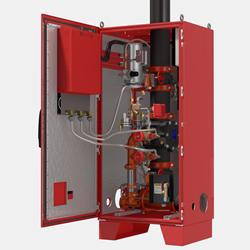 Easton, PA (PRWEB) July 14, 2014
Victaulic, the world's leading manufacturer of mechanical pipe-joining and fire protection systems, introduces improvements to the FireLock® Series 745 Fire-Pac, delivering innovative new options while maintaining the same small Fire-Pac space requirements. The Victaulic Fire-Pac is a pre-assembled fire protection valve and trim that is pre-wired to a fire alarm control panel or junction box and enclosed inside a metal cabinet. The improvements give customers more options and benefits for installation, maintenance and design.
The new FireLock Fire-Pac design relocates the electrical connection box from atop the cabinet to a location inside the cabinet, creating a lower profile and allowing the 6'5" cabinet to fit through standard doorways for ease of delivery and installation.
The new Fire-Pac can be used in a wider range of operating environments thanks to new insulation and heating components for ambient temperatures as low as 20ºF (-6ºC). The FireLock Series 745 is also weatherproofed to an equivalent of NEMA 4 standards to keep out moisture and dirt.
"These design improvements come from our close relationship with our customers," said Daniel Wake, product manager, Victaulic Sprinklers and Devices. "The improved FireLock Series 745 Fire-Pac provides greater application options by featuring sealed cabinets with heating and insulation for outdoor installations, while maintaining a small footprint reducing space requirements, more inlet pipe and drain connection options and a greater ambient temperature range, all within the same footprint as the original."
Victaulic has retained the benefits in the cabinet such as fully removable side and back panels to allow easy access to internal components for inspection and maintenance. The pipe feed and drain can be located on the left, right or bottom panels for faster connections. All water drains inside the cabinet are hard-piped to eliminate potential leakage inside the cabinet enclosure. New panel designs include addressable capabilities with other intelligent devices; and Notifier RP-2001 releasing control panel, containing a power supply, stand-by batteries and a battery charger.
Available in 1 ½ inch through 8 inch/40-200 mm sizes*, the FireLock Fire-Pac can incorporate any of the following available valve configurations:

Dry – Actuated and/or accelerated;
Deluge – Wet pilot, dry pilot and electric actuation;
Preaction – Non-interlock, single-interlock and double-interlock;
Preaction – AutoConvert preaction to dry.
Common installations for the Fire-Pac include airports, data centers, high-security, industrial and mining facilities, parking garages and high-rise buildings. A stainless steel cabinet is also available for corrosive applications.
In addition, the Fire-Pac includes a water supply shutoff valve, a sprinkler system fire protection valve, alarm line pressure switches, air supervisory pressure switches, optional air compressor or nitrogen connection, optional upper systems control valve and pressure gauges that are easily viewed through the cabinet door.
The FireLock Series 745 Fire-Pac is FM Approved and cULus Listed. All electrical enclosures and connections are UL Listed, and all materials and wiring conform to NFPA requirements. For more information about the FireLock Series 745 Fire-Pac improvements and other solutions for the fire protection market, visit http://www.victaulicfire.com.
*The 8"/200mm valve size does not carry UL/FM as an assembly. All components are individually UL/FM.
About Victaulic
Since 1919, Victaulic has been the world's leading producer of grooved mechanical couplings and pipe-joining systems. Used in the most demanding markets, Victaulic innovative piping technologies and services put people to work faster while increasing safety, ensuring reliability and maximizing efficiency. The company has 15 major manufacturing facilities, 28 branches worldwide and over 3,600 employees who speak 43 languages across the globe. With more than 900 active global patents, Victaulic solutions are at work in 115 countries across diverse business lines including oil and gas, chemical, mining, power generation, water and wastewater treatment, military and marine, as well as commercial building and fire protection. For more information visit http://www.victaulic.com and follow us on LinkedIn, Facebook, Twitter, and YouTube.