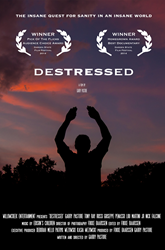 Lakewood, New Jersey (PRWEB) July 11, 2014
Award-Winning Feature Film "Destressed" to Be Screened at The Strand Theatre in Lakewood, NJ on Saturday, July 12
The screening of "Destressed," an award-winning independent feature length docu-dramedy, will benefit POAC and their efforts with the Autism Shield Program. Beside Director and Actor Garry Pastore on hand for the V.I.P. meet and greet, other celebrity guests include Al Sapienza of "Godzilla" and "House of Cards," and Vincent Piazza of "Boardwalk Empire" and "Jersey Boys."
Garry Pastore, the founder of Willowcreek Entertainment, announced today that his feature length docu-dramedy, "Destressed" will be screened at the Strand Theatre, in Lakewood, New Jersey on Saturday, July 12th at 7PM. The screening is to benefit POAC and their tireless efforts with the Autism Shield Program. This program was implemented to train law enforcement and first responders when an autistic child goes missing and currently has a 100% success rate. A portion of the proceeds from this screening will assist in funding their mission.
Mr. Pastore is thrilled to be joined at the V.I.P. meet and greet by celebrated actors like Vincent Piazza of "Boardwalk Empire" and the recently released "Jersey Boys," along with Al Sapienza of "Godzilla," "House of Cards" and "The Sopranos." In addition, celebrity Pop Artist Perry Milou will host a silent art auction and paint live at the event.
"Destressed" tells the story of a man whose stress levels place him in the hospital in grave condition. After much soul-searching and another chance at life, he embarks on an amazing and often hilarious journey to search for his Zen.
Garry Pastore is the Director and Producer of the film, which took home Best Picture and Best Home Grown Documentary honors at the GSFF this past April in Atlantic City. Garry, with over 50 supporting roles in his 35-year career, has previously been nominated for a 2012 SAG Award for his contributions to the mega-hit, "The Dark Knight Rises" and has also been the recipient of the ensemble Emmy Award for his work on the hit show "30 Rock." His directorial debut film, "Waiting For ...Budd" (2009) won multiple awards during the 2010 Film Festival Circuit, including Best Director and Best Picture at the NYIFF and SIFF.
For additional information and ticket sales, please visit http://www.strand.org and http://www.destressedfilm.com.
Contact: Brigette Lutz
ADG/ Artist Development Group
artistdevgroup(at)gmail(dot)com
908.309.7887