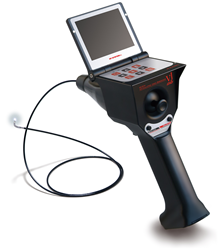 (PRWEB) July 14, 2014
The Airborne Law Enforcement Association (ALEA) Expo is coming up on July 16-19, 2014, and RF System Lab's VP of Government Programs, Joel Riling, is looking forward to exhibiting for the first time. The expo, taking place at the Phoenix Convention Center, promises to set the standard for excellence in public safety aviation.
The 2014 ALEA expo website offers a glimpse into courses offered at the event, which include "Unlocking the Power of Your Safety Program" and "Why Flight Simulation?" Fixed-Wing Operations, Water Survival, Unmanned Aircraft Systems, and Helicopter Rescue Tactics are only a few of the training opportunities offered at the expo. In addition, there will be an impressive exhibitor hall onsite, allowing vendors to showcase their services and products to aviation decision-makers.
Joel Riling, a 26-year US Navy Commander (Retired), will be onsite at the conference to present the VJ-Advance (VJ-ADV) video borescope. When asked about the expo, Riling replied, "This conference is an excellent fit for the VJ-ADV. I am looking forward to meeting with public safety pilots, tactical flight officers and technicians to show them our affordable, high-quality video borescope. Many public safety aviation professionals have already realized significant savings and are currently using the VJ-Advance for their inspections."
The VJ-ADV is used in a variety of inspection scenarios, including turbine and airframe inspections. Additionally, the super-slim 2.8mm VJ-ADV is quickly becoming a popular choice for avionics inspections. The groundbreaking video borescope offers a combination of high-end optics, portability, and features unique to the world of remote visual inspection, which make it an ideal choice for law enforcement professionals. See for yourself how inspections with the VJ-ADV are easily and efficiently conducted by testing it out firsthand at the 2014 ALEA Expo.
Remote Visual Inspection (RVI) for public safety aviation is not a problem with the VJ-Advance video borescope because it is battery powered, completely portable, and lightweight. Don't miss a chance to meet Joel Riling at the RF System Lab booth #715 starting on Wednesday, July 16th for a chance to demo the VJ-ADV video borescope. Those unable to attend the conference can still demo the VJ-ADV for free at their own facility. For more information, call RF System Lab today at (855) 787-6966.
RF System Lab is a worldwide leader in remote visual inspection and video borescope technology. RF manufactures the fully-articulating (360 degree) VJ-Advance (VJ-ADV) video borescope; available in 2.8mm, 3.9mm, or 6.9mm insertion tube diameters. The VJ-ADV delivers the ideal features sought after by industry professionals. RF System Lab offers an industry-first no-obligation, demo program to allow companies to test drive the VJ-Advance by doing real-world inspections at their own facility, for free.