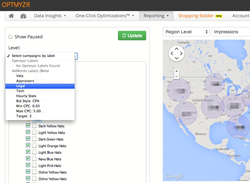 Palo Alto, CA (PRWEB) July 11, 2014
Google this week announced support for AdWords labels in the latest version of their API. Optmyzr has quickly responded to this new capability and added AdWords labels to all of their tools less than 3 days after the Google announcement.
Optmyzr automatically fetches an advertiser's AdWords labels and makes them available for use with any of their custom reports, data insight reports, and one-click optimizations™.
This opens up many new possibilities for advertisers who can now more easily get the right data to make decisions to improve their AdWords performance. They can now easily:

Create custom AdWords reports showing data for a particular AdWords label.
See the Quality Score for all campaigns that have a certain label.
Compare performance for campaigns with different labels.
Do keyword optimizations for campaigns with a particular label.
Create unique data visualizations showing geographic, hour of week, or search term performance for campaigns with a particular label.
Users can continue to use Optmyzr's labels while also using labels that they have created in AdWords or other tools. This eliminates the need to duplicate labels in Optmyzr and will save advertisers a significant amount of time.