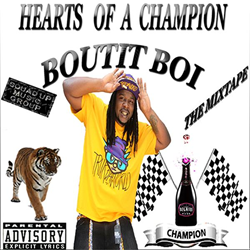 Miami, FL (PRWEB) July 12, 2014
Coast 2 Coast Mixtapes announce the release of the "Hearts Of A Champion" Mixtape by BOUTIT BOI. The 19 track project is currently available for download. The mixtape features appearances from T.K.S, Kazpa, G.K., Toe Down, Quebo, Spanish Red, and Slay Boogie.
James "BOUTIT BOI" Benjamin was born in Pahokee, FL, with a small population of 6,000. Raised in Belle Glade, FL with a population of 18,000 this county is also known as "tha muck". This area is known for its major sugar cane industry and talented football players throughout colleges and NFL. BOUTIT BOI grew up in the heart of the streets, constantly bombarded by the high crime rate, drugs, and violence that existed there. Although he was consumed by that world and was incarcerated numerous times, BOUTIT BOI managed to graduate from Glade Central High School in 1999 and with the help of friends and family he avoided the street corners and proceeded to enroll in college. BOUTIT BOI isn't just a talented rapper, but also in the summer of 2006 he learned to produce beats, write lyrics, and even engineer a studio.
This multifaceted artist was majorly influenced by the talented rappers, DJ's, producers, and promoters throughout south Florida. Some artists that he listened to growing up include 8Ball & MGJ, Scarface NWA, Trick Daddy, Ghetto Boyz, R-Kelly, Isley Brothers, and his older cousin in Outkast. This is his 4th mixtape, "Hearts Of A Champion", which is an original production of hard-hitting Rap and R&B songs. With his energetic personality and ability to pull you into his world, this is sure to be a hit. Keep up with BOUTIT BOI on his twitter at @561BOUTITBOI.
About Coast 2 Coast Mixtapes
Coast 2 Coast Mixtapes are the most widely distributed mixtapes in the world, with over 100 million downloads/plays generated by over 200 volumes officially hosted by major artists. Coast 2 Coast has a solid reach in the new music industry with a digital magazine, DJ coalition, industry tips blog, yearly convention, and more. Coast 2 Coast Mixtapes represents a unique opportunity for artists of all urban genres, from major to indie. For more information, visit http://www.coast2coastmixtapes.com.