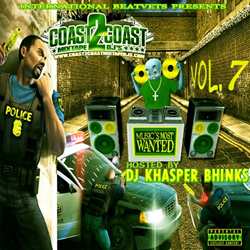 Indianapolis, IN (PRWEB) July 12, 2014
Coast 2 Coast Mixtapes announce the release of the "MUSIC'S MOST WANTED VOL. 7" Mixtape by DJ Khasper Bhinks. The 25 track project is currently available for download. The mixtape features appearances from Boy Genius, Brittanica Young, El Padrino, King Lon Da Great, and many many more.
"MUSIC'S MOST WANTED" Volume 7 is a worldwide collaboration between over 24 artists worldwide along with DJ Khasper Bhinks. This project features music from Boy Genius, Brittanica Young, KEYZ2THAGAME, INTERNATIONAL i, Young Dreal, The Networkkas, Stumpa, King Lon Da Great, Str8 Kash, Cruch Calhoun, Mike Willion, Full Clip, Sapp Reefa, Sidewalk Pkasso, Psych, FM Duke, H.A.T.E, Marz Wilson, El Padrino, Artistry Music Group, Xtortion Tha Don, CHOZE, Droyd, and more. This project has talent from places such as: Alaska, The Bahamas, New York, Canada, California, Illinois, Missouri, Ohio, Michigan, North Carolina, Georgia, Pennsylvania, Oklahoma, Maryland, Washington DC, and more.
DJ Khasper Bhinks is a full time DJ, that produces, mixes and promotes. He has been an active DJ since 1998 and has worked with hundreds of Independent Artists worldwide. DJ Khasper Bhinks is based out of Indianapolis, IN but he books parties, as well as collaborates with "Serious Artists", from all over the world! In his newest mixtape "MUSIC'S MOST WANTED Vol. 7" he has joined together artists from all over the world to create a diverse, addictive, and influential mixtape. This mixtape hypes the listener up with the different international styles and the diversity of Rap and R&B songs. Sure to entertain a wide variety of fans, DJ Khasper Bhinks has done it again with this hit "MUSIC'S MOST WANTED Vol. 7". Join him on his twitter for updates on his productions and collaborations at @DjKhasperBhinks.
About Coast 2 Coast Mixtapes
Coast 2 Coast Mixtapes are the most widely distributed mixtapes in the world, with over 100 million downloads/plays generated by over 200 volumes officially hosted by major artists. Coast 2 Coast has a solid reach in the new music industry with a digital magazine, DJ coalition, industry tips blog, yearly convention, and more. Coast 2 Coast Mixtapes represents a unique opportunity for artists of all urban genres, from major to indie. For more information, visit http://www.coast2coastmixtapes.com.