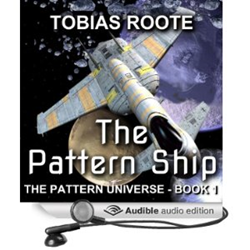 Moves fast, leaves you wanting more!
(PRWEB) July 13, 2014
SciFi Publishing is pleased to announce its newest scifi audiobook, "The Pattern Ship", written by bestselling author Tobias Roote; now available on Amazon, Audible and iTunes. http://amzn.to/RftJFo
About The Pattern Ship
When nature releases the advanced spaceship buried for millennia, carried in stasis through time, it regenerates itself using solar energy and quickly provides the backdrop for a fast-paced science fiction story that develops into a space opera.
Spanning multiple universes a warring race of artificial intelligence gets to know of the planet and its biological sentience and prepares to eradicate them. Earth must develop the technology to defend themselves before its too late. Only Zeke can prepare them for what is to come.
This is a First Contact novel expanding into a fast-paced science fiction series.
What People are Saying
Pattern Ship is in the Amazon Best Sellers Rank Top 100 for Space Opera and First Contact genres.
5.0 out of 5 stars "Moves fast, leaves you wanting more!"
5.0 out of 5 stars "Enjoyable, fast paced story!"
5.0 out of 5 stars "Excellent Science Fiction Story!"
5.0 out of 5 stars " Fantastic journey!"
5.0 out of 5 stars "I could not put this book down!"
About the Author
Tobias wrote 'The Pattern Ship' in just 30 days', publishing it the day before Christmas as a promise to himself to justify being away from family at such an important time.
Now he is firmly cemented into the Sci fi writing regime and has since completed book 2, 'POD' and is close to completing the 3rd book 'The NUBL Wars' with the last in the series 'Deliverance' to be out in Autumn 2014. Look out for a brand new 'Pattern Universe II', series involving a really great character 'RIGA, AI' which he has already fleshed out the first 3 books for.
He enjoys fast moving chapters leaving the reader to catch up at their own speed and colour in the scenery from their own experiences and devising complex plot and twists.
You can keep up with him on his website at http://tobiasroote.com or follow him on Facebook at http:/facebook.com/TobiasRooteAuthor.
About Sci-Fi Publishing
Sci-Fi Publishing enables authors to bring their work to life, creating powerful audiobooks for Sci-Fi fans. We partner with authors from audiobook production to marketing so they can continue to focus on their passion, creating new and amazing worlds.
For more information about us and to discover other great scifi audiobooks, visit us at either http://www.scifi-publishing.com or http://www.scifi-audiobooks.com.