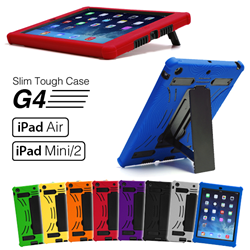 The iPad Slim Tough Case G4 is made for kids and students. It offers all the features schools asked for – industry-leading drop protection, built-in screen protection, and fits in the Bretford and other charging carts.
Chicago, IL (PRWEB) July 15, 2014
Due to particularly high customer demand for the new STC G4 case, many of the color choices initially sold out. Immediate shipping is now available for all 8 colors on üuber's G4 Case for iPad Air. Choose from the classics black or gray, or bold statement colors like blue, red, green, yellow, purple, and orange.
üuber's STC case features a multi-layer construction using an inner hard case, outer rubber skin, and a built-in screen protector. The new G4 case for iPad Air features extra padding around all corners, improved scratch resistance on the screen protector, additional stands for propping the iPad at a low typing angle in any orientation, and a thin-profile that fits nicely in Bretford and other charging carts.
It has been reported that iPads deployed in schools suffer damage rates of up to 10%-15%, with broken screens being the most common. According to a 12/31/12 article in UK's Daily Mail Online, "Schools that spent £500,000 giving its pupils iPads admits that half are now broken." Read more here: http://dailym.ai/1vNrLcd. Although cases such as the Otterbox Defender and Griffin Survivor offer good protection, they're too thick to fit in the popular Bretford charging cart used in schools.
üuber designed the STC G4 for schools by listening and incorporating customer feedback. Combining the best quality material with advanced engineering, the G4 case is built to last. The company is so confident with the G4's durability, they just announced a Lifetime Warranty for school purchases. During the lifetime of the G4 case, if the case is broken for any reason, even if it's caused by accidental dropping on the floor, üuber will repair or replace the case at no cost. The customer is only responsible for sending the broken case back to the company.
To make sure the case adequately protects the iPad in any situation, üuber put the Slim Tough Case through the "ultimate drop test." The STC protected the iPhone from a 20-foot free fall to a paved driveway. The phone escaped without a scratch, and was recording video the whole time! Watch the drop test video here: http://youtu.be/cTZe5ziR8LU.
The STC G4 is customizable with supplied artwork. Using a Tough Skin decal, cases can be custom printed with schools' full-color logo artwork, asset tracking ID and barcode, and lost-and-found verbiage for each iPad, making the management of multiple devices tremendously easy.
"The iPad Slim Tough Case G4 is made for kids and students," says Jimmy Sun, president of uuberstore.com. "It offers all the features schools look for – industry-leading drop protection, built-in screen protection, and fits in the Bretford and other charging carts."
The STC G4 can be ordered from üuber's website. Quantity discounts are available for businesses and schools.
About uuberstore.com
üuber, formerly known as iGear, is a leading maker of protective gear for Apple's iPad. The brand changed to üuber when the company starting developing cases for other devices, such as the MacBook, Chromebook, and Samsung devices. Sunrise Hitek Group, LLC, owner of the üuber brand, also operates Sunrise Digital, a leading digital printing company based in Chicago. As a G7 Qualified Master Printer, Sunrise is uniquely qualified among protective gear makers to offer a wide array of customization options, ensuring the most consistent and accurate color reproduction. Sunrise is an Inc. 5000 company established in 1988 and employs the most advanced equipment and technology, such as G7-certified HP Indigo and UV flatbed presses, and digital die-cutting, to create best-in-class products. A privately-owned enterprise, the company is based in Chicago and sells products worldwide.