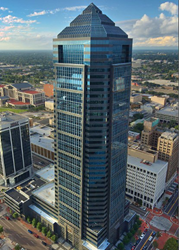 (PRWEB) July 11, 2014
Hertz Investment Group confirmed it has completed the acquisition of Bank of America Tower, an office building located in Jacksonville, Florida for a purchase price of $88 million. The seller was Parmenter Realty Partners.
The Bank of America Tower is comprised of 696,672 square feet and is located at 50 N. Laura Street in Jacksonville's Central Business District. At 42-stories high, it is the tallest building in the City and has been Jacksonville's perennial skyline landmark since its completion in 1990. The Helmut Jahn-designed granite-clad tower features a two-story lobby with marble and mahogany finishes, unique octagonal shaped floor plates and a crowning, triangular, eight-panel illuminated rooftop.
Said Judah Hertz, Chairman and CEO of Hertz Investment Group, "We are very excited to acquire Bank of America Tower, the city's newest and most modern office building. Its majestic architecture and impressive height give the tower a stately presence and it definitely transcends the market. This is one of our finest buildings."
Positioned at the nexus of the Central Business District, the Tower is within walking distance to federal and county courthouses, City of Jacksonville offices, hotels, restaurants, Times-Union Center for the Performing Arts and Jacksonville Landing, which is slated for renovation.
Jim Ingram, Executive Vice President and CIO of Hertz Investment Group, added, "This acquisition perfectly matches our criteria of 'Best in Class' CBD assets in secondary markets. We look forward to being open for business in Bank of America Tower, which is home to the best regional and national tenants in the City."
Bank of America Tower was the first office building in Jacksonville to achieve LEED (Leadership in Energy & Environmental Design) certification in 2011, which is a green building certification program recognizing excellence in building strategies for energy efficiency and sustainability. The building was the recipient of BOMA's (Building Owners and Managers Association) "The Outstanding Building of the Year" award nine times in the last 15 years, and also received BOMA's "The Best of the Best" in 2002, BOMA's "7 Point Challenge", and the prestigious "BOMA 360" designation.
About The Hertz Investment Group
The Hertz Investment Group specializes in the acquisition, marketing and management of exceptional real estate properties with a special emphasis on downtown revitalization. The company, which is privately held, currently owns and manages more than 45 major urban properties, representing in excess of 15 million square feet of office space in the central business districts of 15 U.S. cities across eleven states. Since its founding by Judah Hertz in 1977, the Hertz Investment Group has successfully acquired and managed a diverse collection of more than 100 premier properties throughout the United States, including prominent high-rise office buildings; international market centers for fashion and jewelry; historically significant landmark properties; luxury hotels; high profile theaters and society clubs; large retail centers; and multi-family residential properties.
For more information, visit us at http://www.hertzgroup.com.
Press contact:
Susan Iida
310-584-8000
susan(at)hertzgroup(dot)com