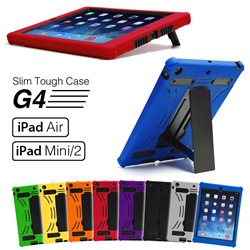 uuber is a recognized leader in providing rugged iPad cases for schools. With the popularity of the Bretford and other charging carts, designing compatible iPad cases is an important step in satisfying school's needs.
Chicago, IL (PRWEB) July 16, 2014
uuber's most popular product, the Slim Tough Case, is made for schools. It features a multi-layer construction using an inner hard case, outer rubber skin, and a built-in screen protector. The STC G3 is available for the iPad 2/3/4 in 8 bright colors. The new G4 case for iPad Air and Mini Retina adds extra padding around all corners, improved scratch resistance on the screen protector, and additional stands for propping the iPad at a low typing angle in any orientation. All Slim Tough Cases feature a thin-profile that fits nicely in Bretford and other charging carts.
The iPad Flip Turn Case is arguably one of the most versatile on the market. It performs acrobatic tricks on the iPad, allowing it to be used in three modes – tablet, laptop, and presentation. Open up the case and the iPad becomes a laptop, with a built-in Bluetooth keyboard. When flipped 180 degrees, the case becomes a stand, turning the iPad into presentation mode, great for movie watching. Folding the case completely flat causes the case to disappear, and the iPad becomes a normal tablet. The tension closure system also keeps the iPad closed when not in use, with an auto wake/sleep smart cover design to conserve battery. The iPad Air version also comes with a backlit keyboard and a built-in stylus to keep the screen clean.
uuber's new Dura Tough Case features a two-piece construction, extra padding around all corners, a multi-angle kickstand, and a thin-profile that fits in the Bretford charging cart, all at a very economical price point on bulk orders. The DTC is available with an optional high-definition screen protector, offering a smooth touch experience while enhancing the Retina Display.
The iPad Custom Case offers the ultimate in custom-branded protective gear and can be printed with customer supplied full-color artwork. The case is engineered to great precision and fits the iPad snugly. The lightweight hard shell case is made with polycarbonate, one of most durable materials around, protecting the iPad from daily use and abuse. The iPad is completely enclosed from all sides, with precise cutouts for all ports and buttons. The iPad Custom Case comes with two sets of magnets – one set to activate the iPad's auto wake/sleep feature, and another to keep the case closed when not in use. Using three strategically positioned hinges, the iPad can be positioned at five different viewing angles, from completely flat to vertically tilted for use in any situation.
This Leather Swivel case for the iPad Air offers folio style protection for the iPad with 360º free rotation, perfect for watching movies, or giving presentations. Rotation allows the iPad to be set up in both orientations at a comfortable angle. The folio closes for front glass protection when not in use with a soft fabric lining that protects the iPad screen. While uuber's top priority is to make cases that deliver the utmost protection to the device, they also want the product to be fun and pleasing to the eye. With its durable leatherette padding and portfolio style, this case does not disappoint. The portfolio style imparts full-body protection all around the iPad and also happens to be a very chic look. For the finishing touch an elastic band holds the iPad securely. This new case has the standard smart cover auto wake/sleep feature as well.
"uuber is a recognized leader in providing rugged iPad cases for schools." says Jimmy Sun, president of uuberstore.com. "With the popularity of the Bretford and other charging carts, designing compatible iPad cases is an important step in satisfying school's needs."
All products can be ordered from uuber's website. Quantity discounts are available for businesses and schools.
About uuberstore.com
üuber, formerly known as iGear, is a leading maker of protective gear for Apple's iPad. The brand changed to üuber when the company starting developing cases for other devices, such as the MacBook, Chromebook, and Samsung devices. Sunrise Hitek Group, LLC, owner of the üuber brand, also operates Sunrise Digital, a leading digital printing company based in Chicago. As a G7 Qualified Master Printer, Sunrise is uniquely qualified among protective gear makers to offer a wide array of customization options, ensuring the most consistent and accurate color reproduction. Sunrise is an Inc. 5000 company established in 1988 and employs the most advanced equipment and technology, such as G7-certified HP Indigo and UV flatbed presses, and digital die-cutting, to create best-in-class products. A privately-owned enterprise, the company is based in Chicago and sells products worldwide.