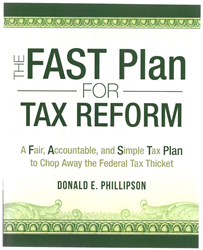 The FAST Plan for federal taxes is a Fair, Accountable, and Simple Tax plan.
Golden, CO (PRWEB) July 17, 2014
The FAST Plan for Tax Reform uses an informal teaching style that carries the reader smoothly from topic to topic.
The book begins by building the reader's knowledge about federal spending, alternative taxation approaches, and structural problems with current federal taxes.
The book then presents the FAST Plan, first with a summary and then with discussion of each part of the FAST Plan. This discussion includes historic rationales for many tax policies and data-based critiques of those policies. The proposals that emerge from this discussion create a Fair, Accountable, and Simple Tax plan (hence the acronym FAST).
As a broad overview, the FAST Plan itself retains an individual income tax, but with significant changes.
For example, no individual income tax will apply to income that is necessary for a healthy life. Specific proposals accomplish this policy.
Social Security and Medicare taxes remain unchanged.
The FAST Plan replaces the current corporation income tax with a different tax that avoids current tax gamesmanship by corporations.
And the FAST Plan establishes new rules regarding the taxation of estates.
For economists, skeptics, and the curious, nearly half of The FAST Plan for Tax Reform consists of appendixes and notes that provide the data and other facts which support the main text. These are derived from original sources without the filter of any organization that advocates its own policies.
Donald E. Phillipson, the author of The FAST Plan for Tax Reform, brings more than four decades of experience as atrial lawyer to his collection of the evidence and creation of ideas that are different from other tax reform proposals.
For a preview of this book, consult its website http://www.fastplanfortaxreform.com. The FAST Plan for Tax Reform is available from its publisher, iUniverse, and from amazon.com, barnesandnoble.com, and many local bookstores.