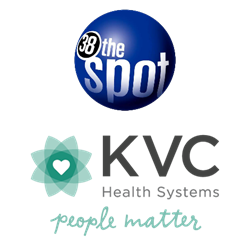 Olathe, KS (PRWEB) July 16, 2014
TV channel "38 the Spot" (KMCI-TV) has teamed up with KVC Health Systems, a national leader in child welfare and behavioral healthcare, to raise public awareness about children in foster care and those waiting to be adopted. 38 the Spot's charitable partnership includes complimentary production and airing of public service announcements (PSAs) that invite community members to provide foster care, mentor a teenager, or adopt a child waiting in foster care.
The two PSAs feature endorsements from local celebrities who serve on KVC's Board of Directors. The first ad, recorded at Allen Fieldhouse in Lawrence, Kan., shows University of Kansas Basketball Coach Bill Self saying that while he knows what it's like to coach 15 young people, he's inspired by KVC foster parents who have cared for more than 100 children over the years. The second PSA was recorded at JE Dunn's headquarters in Kansas City, Mo. It features Bill Dunn, Sr. and his son Bill Dunn, Jr. drawing a link between JE Dunn's construction excellence and KVC Health Systems' high standards in serving children and families. Both ads can be viewed at http://www.youtube.com/kvckids.
KMCI is owned by Scripps Media, which also operates NBC affiliate KSHB-TV (channel 41). The channel prides itself on reaching a broad cross-section of people by offering "sports, courts and comedies" ranging from Sporting KC major league soccer games to sit-coms including The Simpsons and King of Queens.
The PSAs will enable 38 the Spot to play a major role in conveying KVC's core message that "people matter" through compelling creative messages.
"We are grateful for 38 the Spot's generosity, and hope the PSAs will inspire people to make a difference in children's lives through KVC," said Jenny Kutz, Communications Director for KVC. "We do everything from providing foster care to over 4,500 children to helping one child get adopted nearly every day – so we're always looking for foster parents, adoptive families, volunteers, corporate sponsors, monthly giving partners which we call Everyday Heroes, and the list goes on. There are many ways for people to give back to the community."
Ads will rotate through December 2015 and can be watched via cable, satellite or HD antenna on channel 38.1.
For more information about KVC Health Systems, visit http://www.kvc.org.
About KVC Health Systems, Inc.
KVC Health Systems, headquartered in the greater Kansas City area, is a private, nonprofit 501(c)3 organization committed to enriching and enhancing the lives of children and families by providing medical and behavioral healthcare, social services, and education. KVC's diverse continuum of services includes foster care, adoption, in-home family therapy, behavioral healthcare, and children's psychiatric hospitals. In its 44-year history, KVC has grown since from a single Kansas home for boys to a national organization serving tens of thousands of children in five states and Washington, D.C. Due to KVC's leadership in the use of evidence-based research to achieve better outcomes and advance child welfare, the Annie E. Casey Foundation recently endorsed KVC as a best-practice organization. Learn more at http://www.kvc.org.
About 38 the Spot
KMCI-TV, virtual channel 38 (UHF digital channel 41) is an independent television station serving Kansas City, Mo. and Kansas City, Kan. The station is owned by the E.W. Scripps Company, and offers popular programming ranging from major sporting events such as Sporting KC major league soccer games; comedies like The Simpsons, King of Queens, and That 70s Show; and court programs. Learn more at http://www.kshb.com/38-the-spot.