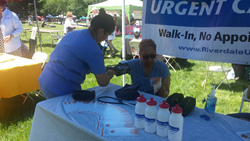 Bronx, NY (PRWEB) July 29, 2014
Riverdale Urgent Care is making community service a central part of what they do. Through their presence at local events, partnerships and other initiatives, the urgent care center seeks to be more than just a medical service for the Riverdale neighborhood.
This year, Riverdale Urgent Care donated money in support of Riverdale RiverFest and South Riverdale Street Fair. Riverdale RiverFest is an annual community event that features local musicians and entertainers, arts and crafts, boat rides and other family fun. The South Riverdale Street Fair is another local event that includes live music, a puppet show and other children's activities.
At these events, Riverdale Urgent Care pitched a tent where they provided health information, connected with locals and offered free blood pressure checks. They also gave the future faces of medicine an opportunity to shine, receiving help from medical assistant interns from local schools such as Hostos Community College and Lehman College.
"These students don't do it for credit," Riverdale Urgent Care's Stan Cohen says. "It's purely community service, and it really makes a difference. We've sent people to the hospital after checking their blood pressure and finding that it was sky-high."
In a separate initiative, Riverdale Urgent Care has adopted a sign along the Henry Hudson Parkway.
"It's not just about having our name on a sign," Cohen says. "The money we give in this initiative will help keep that strip of highway clean. Weed-whacking and picking up trash can go a long way in terms of how people feel about their neighborhood."
Cohen is a Gulf War veteran who has been heavily involved in community affairs for decades. He is a volunteer for Bronx Community Board District 8's Health, Hospitals and Social Services Committee. The group makes funding recommendations and sits in on public hearings regarding community concerns. Through his work with Riverdale Urgent Care, Cohen wants to change the notion that medicine is nothing more than a business.
"We try to be very active in the community," he says. "We want to create a strong voice that represents the interests of the community. Because when it comes down to it, our customers are a part of the community and deserve the best."
To this end, Riverdale Urgent Care is partnered with various community groups. For example, they are a member of the North Riverdale Merchant's Association which supports local commerce in Riverdale.
"When business in an area thrives," Cohen says, "the quality of residential life in the area tends to improve as well."
Future plans for continued community service are in the works. For example, the center plans to adorn the walls of their waiting room with artwork commissioned by local artists. Cohen says that Riverdale Urgent Care will continue to do whatever it takes to support the community, and the people that live and work in it.
About the company:
Riverdale Urgent Care is conveniently located at 5665 Riverdale Ave. in the Riverdale section of the Bronx, NY. At Riverdale Urgent Care, each staff member brings in-depth understanding, extensive experience and skills. In addition to treating life's everyday minor injuries, they offer drug testing, blood testing, vaccines, on site x-ray, EKG, stitches and rapid in house testing for flu, strep throat and mono. They can also perform physicals for DOT commercial drivers, camp, school and employment.
The Riverdale Urgent Care clinic is open 7 days a week - evenings, weekends and holidays, when most doctors' offices are closed. Appointments are never required - just walk in. The clinic is open 8 a.m. – 8 p.m. Monday – Friday and 8 a.m. – 3 p.m. on weekends. Call (347) 913-4242 today for more information.