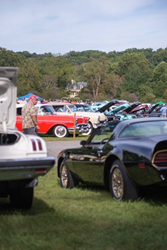 Wilmington, Delaware (PRWEB) July 14, 2014
The Hagley Car Show returns on Sunday, September 14, 10 a.m. to 4 p.m. Visitors may browse more than 500 antique and restored cars, trucks, and motorcycles. This year's special feature is family cars. Parking for the Car Show is at Hagley. Advance wristbands at a discount may be purchased in the Hagley Store or http://www.hagley.org beginning August 22. Wristbands may also be purchased at the Car Show. Please check our web site for updated information.
Walking past cars like a 1941 Chevrolet Woody Wagon or 1964 Ford Fairlane 500 may bring back childhood memories of family road trips, diners, and motels. Visitors will enjoy many types of family cars from a 1910 Stanley Model 71 Touring Car to a 1961 Chevrolet Corvair Lakewood Station Wagon in addition to perusing other antique trucks and cars on display.
Visitors may also try pedal-powered go-kart racing and NASCAR simulator, watch vehicle parades, enjoy motoring music and festival food, and delight in walking around a room of fabulous operating vintage jukeboxes.
Admission and Parking Details
Parking for Hagley's Car Show will be on site at Hagley. Visitors can enter through Hagley's main entrance off of Route 141. Wristbands to the show will be offered in advance at the Hagley Store or http://www.hagley.org from August 22 through September 11 (online) or September 12 (store). Pre-event wristbands are $8 adults and $4 children six through fourteen. Wristbands purchased at the Car Show will be $10 adults and $5 children six through fourteen. Admission is free for Hagley members and children five and under. The event will be held rain or shine.
Sponsorship
The Hagley Car Show is made possible by the support of the following car clubs: Brandywine Region Antique Automobile Club of America, Chester County Antique Car Club, Historical Car Club of Pennsylvania, Historical Vintage Car Club of Delaware,First State Corvair Club, and First State Mustang Ford Club. The display of antique juke boxes is made possible by the American Historic Jukebox Society.
About Hagley Museum and Library
At Hagley, we invite people of all ages to investigate and experience the unfolding history of American business, technology, and innovation, and its impact on the world, from our home at the historic DuPont powder yards on the banks of the Brandywine.