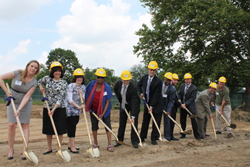 "We want to make Lynnewood Gardens Apartment a very happy home for everybody, and a place you love to live."Osher Perlow, Vice President, Jersey Central Management
ELKINS PARK, PA (PRWEB) July 15, 2014
On Wednesday, June 25, officials and representatives of Jersey Central Management officially broke ground on a long-awaited addition to Lynnewood Gardens Apartments: a 10,000 square-foot-plus clubhouse that will serve the centerpiece of the suburban Philadelphia community.
Dozens of longtime residents, some of whom have lived at Lynnewood Gardens for more than three decades, gathered to celebrate the groundbreaking, which Property Manager Yitz Moller hailed as the latest in a series of "constant and consistent improvements" at the 1,800-unit property.
Since acquiring Lynnewood Gardens in 2007, Jersey Central Management has invested $4 million in upgrades to the property, including fully refurbished apartments with all-new cherry kitchen cabinets; energy-saver appliances; new tile bathrooms; improved color-coordinated building facades and roofs; enhanced property signage; a renovated courtyard; a new laundry center; and more.
The new clubhouse, slated to open in spring 2015, will feature a spectacular great room where residents and guests can gather and relax; an outside porch with fireplace; a spacious, cutting-edge fitness center; an internet café; as well as ample conference space.
In keeping with Lynnewood Gardens' existing architecture, which blends traditional colonial elements with modern conveniences, the new community center will feature a classically inspired entry portico, gabled roof, and banks of windows to take advantage of the park-like views.
"It is momentous for us and a must for our residents to have a place to convene and congregate, a place that will nurture a community feeling," said Moller. "This modern community center will fit right into our master plan.
"We want to make Lynnewood Gardens Apartment a very happy home for everybody," said Osher Perlow, Vice President of Jersey Central Management, "and a place you love to live."
Lynnewood Gardens is situated on 122 verdant acres in a historic section of suburban Philadelphia. Its park-like setting is distinguished by majestic old-growth trees, and leafy lanes with park benches where residents and guests can jog, stroll, bike, and relax. Ample recreational facilities include tennis and volleyball courts, a basketball court, and three swimming pools, including an Olympic-sized pool.
Lynnewood Gardens was established in 1948 to provide premiere apartment living for U.S. servicemen and women returning from World War II. In the ensuing 66 years, it has been the residence of choice for discerning people in the suburban Philadelphia area.
About Lynnewood Gardens. Lynnewood Gardens in Elkins Park, Cheltenham Township, PA, is a pet-friendly community in a prestigious suburb of Philadelphia. With a free shuttle bus, easy access to public transportation, fine dining and shopping locations nearby, and Philadelphia just moments away, Lynnewood Gardens is perfectly situated for apartment shoppers in Montgomery County. Lynnewood Gardens offers short-term leases and corporate housing. For more information, please visit http://www.lynnewoodapartments.com.