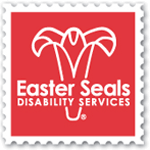 Chicago, IL (PRWEB) July 14, 2014
Easter Seals honored BNY Mellon with the 2014 Leadership Award during its recent Easter Seals Advocacy Summit Awards Dinner in Washington, D.C. The awards recognize exceptional partners, corporations, organizations, foundations and visionaries making a difference in Easter Seals' key focus areas: brain health, veterans and healthy families. BNY Mellon won the award in the veterans' category for its commitment to helping our nation's veterans transition from military to civilian life.
"As military service members return from duty and transition to civilian life, one significant hurdle is finding employment, and part of our mission is to make this easier for the men and women who have bravely served our country," said James E. Williams, Jr., president and chief executive officer, Easter Seals. "BNY Mellon has greatly helped this endeavor through its significant support of our Vets2Jobs program, and their financial support and volunteer leadership have been critical to the program's success."
Vets2Jobs, which is a collaboration between Easter Seals New York and the Easter Seals Dixon Center for Military and Veterans Services, is a BNY Mellon-funded and supported program to help veterans find viable and meaningful employment.
"At BNY Mellon, we believe that continuing to hire, train and mentor military veterans will expand our company's diversity and deliver positive results to our employees, shareholders and clients. Whether it's through our employee resource group for the development and advancement of military veterans or through partnerships with organizations like Easter Seals, we are committed to helping veterans find meaningful employment," said Tim Masluk, BNY Mellon's Chief Security Officer and Director of Global Security. Masluk is also a member of Easter Seals Dixon Center Command Council.
"This award is special because it recognizes our longstanding commitment to providing employment opportunities to the brave men and women who serve and protect our country," added Masluk. "We are proud to partner with Easter Seals Dixon Center and support their vision of a world where our nation's veterans can thrive where they live."
About BNY Mellon
BNY Mellon is a global investments company that delivers investment management and investment services to institutions, corporations and individual investors in 35 countries and more than 100 markets. Additional information is available on http://www.bnymellon.com or on Twitter @BNYMellon.
About Easter Seals
Easter Seals is the leading non-profit provider of services for individuals with autism, developmental disabilities, physical disabilities and other special needs. For nearly 100 years, Easter Seals has been offering help and hope to children and adults living with disabilities, and to the families who love them. Through therapy, training, education and support services, Easter Seals creates life-changing solutions so that people with disabilities can live, learn, work and play. Support children and adults with disabilities at http://www.easterseals.com.