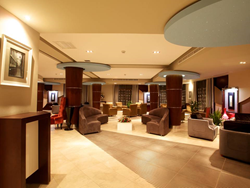 "With international arrivals increasing each year, thanks to contributions from the Tanzania Tourist Board and an increase in the number of airlines servicing Dar Es Salaam, Tanzania is one of Africa's new tiger economies." Suzi Yoder, Best Western
Phoenix, Ariz. (PRWEB) July 11, 2014
Best Western International, the World's Biggest Hotel Family®, adds another prestigious hotel to its East African portfolio. The four star BEST WESTERN PLUS Peninsula Hotel in Dar Es Salaam, Tanzania opened its doors the first of the month and is located within two kilometers of Sea Cliff Village and the Indian Ocean.
The BEST WESTERN PLUS Peninsula Hotel is a recently built four star property, featuring 45 rooms and located only 30 minutes from Julius Nyerere International Airport (DAR), 7 kilometres from the city centre and the ferry terminal to Zanzibar.
The hotel is perfect for both business and leisure travelers with its close proximity to the beach, local shopping district and some of the area's best attractions; such as Botanical Gardens, National Museum and Gymkhana Golf Club.
For corporate travelers, The BEST WESTERN PLUS Peninsula Hotel provides a boardroom capable of hosting up to 20 people, a business center to assist with business needs and a conference venue that can cater for banquets of up to 90. After a hard day's work, guests can unwind and enjoy the gym and health club. The hotel also offers an excellent all day dining restaurant serving an à la carte menu from the renowned Moti Mahal restaurant brand.
This hotel is extremely comfortable and all rooms offer mini-bar, complimentary Wi-Fi, wide-screen TV's, air-conditioning and well-apportioned bathrooms.
The BEST WESTERN PLUS Peninsula Hotel is indeed the perfect home away from home in the eastern region of Tanzania. The hotel's ideal location, warm African hospitality, superior accommodations, tantalizing cuisine and unrivalled service makes the hotel a stand out in Dar Es Salaam.
"With international arrivals continuing to grow each year, thanks to contributions from the Tanzania Tourist Board and an increase in the number of airlines servicing Dar Es Salaam, Tanzania is one of Africa's new tiger economies. The BEST WESTERN PLUS Peninsula Hotel marks Best Westerns third hotel opening in Dar Es Salaam in the last 4 years and we look forward to many more," said Best Western's Senior Vice President of International Operations Suzi Yoder.
For more information on global development opportunities with Best Western International, please visit bestwesterndevelopers.com.
To learn more about a specific hotel or discover other Best Western hotels across the world, visit bestwestern.com.
ABOUT BEST WESTERN INTERNATIONAL, INC.
Best Western International, Inc., headquartered in Phoenix, Ariz., is a privately held hotel brand made up of more than 4,000* BEST WESTERN®, BEST WESTERN PLUS® and BEST WESTERN PREMIER® hotels in more than 100* countries and territories worldwide. Now celebrating 68 years of hospitality, Best Western welcomes hundreds of thousands of guests nightly. Best Western provides its hoteliers with global operational, sales, marketing and promotional support, and online and mobile booking capabilities. More than 20 million travelers are members of the brand's award-winning loyalty program Best Western Rewards®, one of the few programs in which members earn points that never expire and can be redeemed at any Best Western hotel worldwide. The brand's partnerships with AAA/CAA and Harley-Davidson® provide travelers with exciting ways to interact with the brand. In 2013, Best Western earned our highest level of brand recognition, including our fifth AAA/CAA Hotel Partner of the Year award, second Compuware Best of the Web Gold award, fourth No. 1 ranking in Brand Keys Consumer Loyalty Engagement Index for midscale hotels and seventh TTG Asia Best Mid-range Hotel Brand. Forty-one percent of Best Western hotels worldwide won TripAdvisor Certificates of Excellence for customer satisfaction.
For more information or to make a reservation, please visit bestwestern.com.