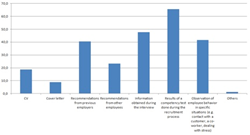 In recruitment, the most time is spent in interviewing, which is actually the least effective predictor of success.
(PRWEB) July 15, 2014
When it comes to business, it's all about people – having the right people in the right place is the difference between success and failure. A good hire will stimulate positive growth, increase productivity, and boost morale. A bad hire can throw the entire organization off track, costing thousands of dollars in lost revenue.
But how do you find the right person for the job? The Polish company EFFECTIVENESS recently published the results of a survey of over 250 HR managers that highlights an interesting trend in staffing. The survey reveals that interviewing, once believed to be best way to gauge the potential of a job candidate, is no longer the preferred hiring tool of HR managers. The majority of respondents agreed that the most reliable source of information about a potential employee is actually a short competency test which can be administered during the recruitment process.
This is good news for job-seekers intimidated by the high-pressure, high-stakes job interview. It's even better news for businesses like Poland-based EFFECTIVENESS and their American partner PeopleKeys, who have their finger on the pulse of this latest trend in hiring.
EFFECTIVENESS and PeopleKeys specialize in the kind of competency tests that are currently in demand with Human Resource Managers. Together, they have worked to develop and implement testing tools for HR Managers that strive to give a deeper and more accurate picture of a job applicant's strengths, weaknesses, and aptitudes.
International Director of Business Development for PeopleKeys, Dr. Bradley Smith said, "In recruitment, the most time is spent in interviewing, which is actually the least effective predictor of success. The key to success is predicting the potential of the candidate in a specific work environment and assessing what their relationship will be to their coworkers, managers, and clients. Virtually every job (from medical professional, computer programmer, sales, or customer support) has tests that can assess technical proficiency. But what those tests don't assess is attitude; whether a candidate is motivated to learn new skills, think innovatively, cope with failure, work with a team, etc. These are the factors that guarantee success and they can be measured and used for hiring decisions."
PeopleKeys' HR testing tools are based largely in DISC theory, a method of personality testing that has been popular since its development in the 1920's. DISC gives companies a critical lens through which their competency tests can be measured and assessed. With DISC testing tools, HR Managers can look at personality profiles for the job candidates, and easily assess how compatible each individual will be not just for the open position, but also for the unique corporate environment the job exists within.
Anna Sarnacka, founder of EFFECTIVENESS and Master Certified Behavioral Consultant, said, "Although a good common practice is to check references with previous employers, that alone will not predict how a candidate will operate the same way in a new work environment. The key to success is to determine whether a candidate's decisiveness, personality, decision-making skills, and team strengths are consistent with the business reality of a specific organization."
She continued, "Every business is different, so we need to offer tailor-made assessments that target the specific behavioral values that are needed. One solution is to create a benchmark— a set of standards or behaviors that have in the past proven to produce outstanding achievement within a given environment, industry, or company. When used properly, online personality tests and behavioral assessments are able to identify which of the potential employees is the closest match to the job profile. Only then is it truly worth inviting a candidate to an interview."
Dr. Bradley Smith responded, "The results of the EFFECTIVENESS HR report correlates with all the data we've collected in our international studies. We work with companies of all sizes, including Manpower Corporation (having offices in 41 countries in addition to Poland), Swarovski, United Airlines, etc. The same HR challenges exist globally."
Both PeopleKeys and EFFECTIVENESS offer trial solutions that HR personnel can use to further investigate the ways that behavioral assessments and personality tests can be used in the hiring process. For more information on EFFECTIVENESS and their partnership with PeopleKeys, visit http://www.effectiveness.pl. For more information on PeopleKeys and their DISC hiring tools, browse their online catalog at peoplekeys.com.
About PeopleKeys
PeopleKeys has been working in the field of behavioral analysis for over 25 years. Their products use DISC personality testing tools and theories of human behavior to provide customizable solutions for companies looking for assistance in staffing, benchmarking, onboarding, increasing productivity, and a wide variety of other personal and professional applications. Product translations are available in a wide variety of languages, making PeopleKeys the international leader for helping individuals unlock their potential. For more information about PeopleKeys and their DISC solutions, please contact Marketing Manager Kaitlyn Miller at 330-599-5580 x113.