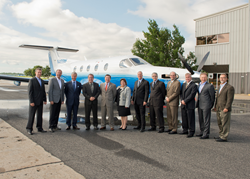 Portsmouth, NH (PRWEB) July 28, 2014
Top executives from PlaneSense, Inc. (PlaneSense) recently traveled to Pratt & Whitney Canada headquarters in Longueuil, Quebec, to celebrate the companies' dual successes this year. The PlaneSense® program purchased its 50th Pilatus PC-12 and 50th Pratt & Whitney Canada PT6A engine in Mid-May.
Simultaneously, Pratt & Whitney Canada is currently celebrating the PT6's 50th year in flight. This headquarter visit also included a tour of the facility, an engine manufacturing presentation, and a speech to plant employees by PlaneSense, Inc. President and CEO, George Antoniadis, regarding confidence and quality.
"Over the years, Pratt & Whitney Canada has delivered excellent products and very high quality services," Antoniadis said. "During the past 19 years, and with more than 220,000 flight hours, we have established a solid relationship of confidence."
Both companies have a longstanding reputation for reliability and excellence, and are renowned powerhouses in the aviation industry. PlaneSense, Inc. manages the largest civilian fleet of Pilatus PC-12 aircraft in the world, and has more experience with the PC-12 than any other aircraft management and maintenance team. Pratt & Whitney Canada is a world leader in the design, manufacture, and service of aircraft engines powering business, general aviation, and regional aircraft, as well as helicopters.
"For nearly 20 years, PlaneSense and Pratt & Whitney Canada have teamed up to offer reliable and flexible solutions that provide peace of mind," said Denis Parisien, Vice President, General Aviation, Pratt & Whitney Canada. "We are proud to commemorate the delivery of the 50th PT6A to PlaneSense. This important milestone re-affirms our common mission to deliver quality products and services to our customers."
While addressing Pratt & Whitney Canada employees, Antoniadis explained that the week of Fourth of July proved to be busy for the PlaneSense program. In the six days surrounding the holiday, PlaneSense® pilots flew 834 hours, with 675 take offs.
"Each one of these flights was powered by a PT6A engine," Antoniadis said. "This level of confidence is very difficult to obtain, and it indicates the high quality of the Pratt & Whitney Canada organization."
For more information on fractional shares with the PlaneSense® program, visit PlaneSense, Inc. online at: http://www.planesense.com.
About:
PlaneSense, Inc. is a fractional aircraft ownership program based out of Portsmouth, NH, that has been in operation since 1996. The PlaneSense® program offers optimal access to many airports, and fractional owner flexibility that suits any flying profile. The program embodies the sophistication and elegance of private aviation with compelling value through competitive pricing, exceptional service, and a luxurious, versatile aircraft. The fleet is currently comprised of over 30 Pilatus PC-12 aircraft.