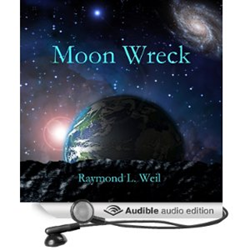 Captivating!
(PRWEB) July 19, 2014
SciFi Publishing is pleased to announce its newest scifi audiobook, "Moon Wreck: The Slaver Wars, Book 1", written by bestselling author Raymond L. Weil; now available on Amazon, Audible and iTunes. http://amzn.to/1jyID6A
About Moon Wreck: The Slaver Wars, Book 1
Disaster has struck the first Moon landing to be attempted in years. Commander Jason Strong and his fellow lunar explorer Greg Johnson have become stranded with no way home. In desperation, they set off in their lunar rover to check out an anomaly they discovered on their descent. What they find will shake their beliefs and what they know of human history. It is the beginning of an adventure that will take them far out into the Solar System and to a discovery that is beyond belief.
What People are Saying
Moon Wreck: The Slaver Wars, Book 1 is in the Amazon Best Sellers Rank Top 100 for Space Opera and First Contact genres.
5.0 out of 5 stars "Captivating!"
5.0 out of 5 stars "Definitely a page turner!"
5.0 out of 5 stars "Awesome start!"
5.0 out of 5 stars "Epic!"
5.0 out of 5 stars "Loved it!"
About the Author
Raymond L. Weil is an avid reader and have a science fiction / fantasy collection of over two thousand paperbacks. He wants future generations to know the experience of reading a good book as he has over the last forty years. He lives in Clinton Oklahoma with his wife of 40 years and their cat.
Fans can follow him on Twitter at @RaymondLWeil or connect with him at http://www.raymondlweil.com
About Sci-Fi Publishing
Sci-Fi Publishing enables authors to bring their work to life, creating powerful audiobooks for Sci-Fi fans. We partner with authors from audiobook production to marketing so they can continue to focus on their passion, creating new and amazing worlds.
For more information about us and to discover other great scifi audiobooks, visit us at either http://www.scifi-publishing.com or http://www.scifi-audiobooks.com.