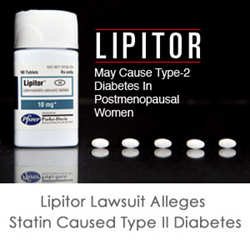 If you have suffered Lipitor side-effects contact the attorneys at Wright & Schulte for a FREE legal consultation by visiting yourlegalhelp.com or calling 1-800-399-0795
Columbus, OH (PRWEB) July 13, 2014
Wright & Schulte LLC has learned that the first Lipitor bellwether trial has been scheduled in July of 2015, in U.S. District Court, District of South Carolina. The Lipitor lawsuits are in the discovery process in the South Carolina federal court where District Judge Richard M. Gergel is presiding over the multidistrict litigation (MDL). The complaints pending in the Louisiana court were filed on behalf of individuals who allege that they took the statin medication to lower their cholesterol and developed Type 2 diabetes. As of June 16, there are 846 Lipitor lawsuits pending in MDL No. 2502. These lawsuits further contend that Pfizer Inc., which manufactures Lipitor, either knew about the link between taking the cholesterol lowering drug and developing diabetes or should have known and failed to properly warn consumers of potential Lipitor side-effects. (In Re: Lipitor (atorvastatin calcium) Marketing, Sales Practices and Products Liability Litigation, MDL No. 2502)
The firm has spoke with numerous people regarding Lipitor lawsuits and their belief that they developed Type 2 Diabetes from the Cholesterol lowing statin. If you have experienced side-effects from using Lipitor contact the attorneys at Wright & Schulte for a free legal consultation by calling 1-800-399-0795 or visit http://www.yourlegalhelp.com. You can also Like us on Facebook and Follow us on Twitter for all the latest news on Lipitor and other drug side-effects.
In February 2012, the U.S. Food & Drug Administration (FDA) issued a warning regarding the potential for Lipitor to cause new-onset diabetes. The FDA also ordered Pfizer to change the label on Lipitor to reflect that individuals using the drug risk developing diabetes. Court records show that despite this change, plaintiffs allege that the warnings added to the Lipitor label remain inadequate. [fda.gov/drugs/drugsafety/ucm293101.htm, FDA, February 28, 2012]
A study published in the January 2012 issue of JAMA Internal Medicine suggested that post-menopausal women treated with statins, like Lipitor, may be at higher risk of developing new-onset diabetes. The following year, the British Medical Journal published a study that found patients who take Lipitor, or atorvastatin, faced a 22 percent increase in the risk of new-onset diabetes. A more recent study was published in the British Medical Journal that looked at data of nearly 137,000 patients from Canada, the U.S. and the UK, all of whom had been prescribed statins after they were hospitalized for a stroke, heart attack, or other cardiovascular problem between 1997 and 2011. Some 3,600 of those patients were diagnosed with Type 2 diabetes within two years of starting treatment, according to the study.
[archinte.jamanetwork.com/article.aspx?articleid=1108676, JAMA Internal Medicine, January 23, 2012]
[bmj.com/content/348/bmj.g3244, May 29, 2014]
Lipitor, also marketing as atorvastatin, is a statin drug used to lower the risk of heart attack stroke, and chest pain, in individuals with high levels of Low Density Lipoprotein cholesterol, or "bad cholesterol." The statin drug lowers cholesterol by blocking an enzyme in the liver.
[fda.gov/NewsEvents/Newsroom/PressAnnouncements/ucm293623.htm, February 28, 2012]
Court documents indicate that Pfizer is scheduled to begin taking depositions on August 1 of six fact witnesses, including plaintiffs, their spouse or immediate family member, or a plaintiff's health care provider who prescribed Lipitor. At the same time, Pfizer will identify two sales representatives for the plaintiffs to depose. The plaintiffs and Pfizer are to complete their depositions by October 24. A schedule for the MDL proceeding also shows that on December 15, the court will randomly select one of the remaining cases in discovery for the first jury trial scheduled on or before July 1, 2015.
[scd.uscourts.gov/mdlipitor/orders/CMO6.pdf, May 22, 2014]
As of June 16, there are 846 Lipitor lawsuits pending in the Lipitor litigation. An MDL for Lipitor lawsuits was established earlier this year by transferring all federally filed complaints regarding the medication to the federal district court in South Carolina (MDL No. 2502). The judicial panel centralized the Lipitor complaints because they all involve common questions of fact and allege that the plaintiffs developed type 2 diabetes after using Pfizer's cholesterol-lowering drug.
About Wright & Schulte LLC
Wright & Schulte LLC, an experienced personal injury firm, is dedicated to the belief that America's legal system should work for the people. Every day, the attorneys of Wright & Schulte LLC stand up for the rights of people who have been injured or wronged and fight tirelessly to ensure that even the world's most powerful corporations take responsibility for their actions. If you're looking for a law firm that will guarantee the aggressive and personal representation you deserve, please do not hesitate to contact Wright & Schulte LLC today. Free Lipitor lawsuit case evaluations are available through yourlegalhelp.com or by calling 1-800-399-0795.
Contact:
Wright & Schulte LLC
812 East National Road
Vandalia, Ohio 45377
1-800-399-0795
http://www.yourlegalhelp.com
Like us on Facebook
Follow us on Twitter
Join us on Google+