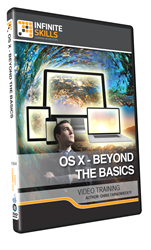 Learn advanced features in OS X - Beyond the Basics at your own pace.
(PRWEB) July 12, 2014
Software training firm Infinite Skills Inc. this week introduced its "Apple OS X - Beyond The Basics Tutorial," a course designed as an introduction to the technical under-side of OS X Mavericks, helping basic Mac users learn about the system's advanced features and capabilities for security and administration.
Apple continues to design its operating system to be a seamless and intuitive experience for the average user. But the operating system has a powerful Unix core that has a store of capabilities under the hood for optimizing security, automation, administering accounts, and more, that can be accessed after learning a few simple best practices.
Infinite Skills' Apple OS X - Beyond The Basics Tutorial helps users take the first steps to working with the core features of OS X, introducing capabilities such as the Automator and Apple Scripts, going in depth with user account management, and beginning to safely use the Terminal and customize the home folder.
Apple OS X - Beyond The Basics Video Tutorial - Streaming
Course author Chris Tarnowieckyi has been administering Apple systems and servers since 1997, and training others since 1999. In 2001, he became a certified Apple instructor, and he holds several Apple certifications including system administrator, technical coordinator, and support professional. Tarnowieckyi teaches primarily Mac OS X and OS X Server, and currently owns and operates an authorized Apple training center.
Tarnowieckyi begins with a review of the basic navigation, control, and configuration of the OS X Mavericks desktop, and quickly moves into an exploration of the native file system, introducing Disk Utility, home folder organization, and how to work with multiple libraries.
The course then goes in-depth with file system permissions and working with metadata, before introducing the Terminal and the basic concepts involved in using the command line interface.
Other chapters look in detail at data archiving and security, including secure data removal, and managing account security with passwords and administrator controls.
The course also includes a chapter on problem solving, looking at how to manage processes from within the Unix system, as well as the OS X capabilities for automation and using Apple Scripts.
"This course is designed as an introduction to advanced topics in the OS X Mavericks operating system," Tarnowieckyi explains. "It is designed for anyone who wants to get started learning about the the system's under-the-hood features."
Free demo videos and a full list of course contents can be found on the Apple OS X - Beyond The Basics training page of the Infinite Skills website:
http://www.infiniteskills.com/training/os-x-beyond-the-basics.html
Infinite Skills offers its Apple OS X - Beyond The Basics Training Video either as a DVD or a direct download from the company website at a retail price of $99.95, or as part of its subscription streaming service available at a rate of $25 per month. Though the compatibility of programs varies, all Infinite Skills titles and formats are compatible with both Mac and Windows operating systems, and shipping is available around the globe. Additionally, Infinite Skills tutorials are supported by project files which correspond to examples in the videos.
About Infinite Skills Inc.
A leader in the field of software training, Infinite Skills designs its courses on a task-oriented model, teaching complex skills by providing hands-on examples and guiding users as they carry out essential functions. Infinite Skills offers a wide range of software titles available as DVDs, digital downloads, and in iPad editions. Infinite Skills now offers a subscription service, providing access to all its training content for a monthly fee, keeping with company's aim of delivering professional training to customers anywhere they want to learn.