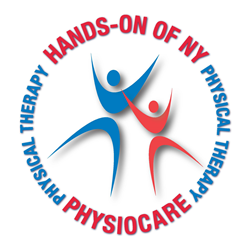 "I love 'Jeans Day'! It's a great opportunity to help such an important cause and a fun way to do it." Staff Member at Hands-On Care Physical Therapy
Astoria, New York (PRWEB) July 13, 2014
Multiple Sclerosis (MS) is an autoimmune disease that affects the central nervous system. With an autoimmune disease the immune system attacks the person's body instead of the threats and diseases it was designed to fight. In the case of MS, the immune system eats away at the sheath that protects the nerves. Ultimately the nerves deteriorate and the brain has difficulty getting messages to the rest of the body. Further complications, such as bowel problems, urinary and sexual dysfunction, epilepsy and paralysis, may develop.
Though scientists know relatively little about multiple sclerosis, research into its causes and possible treatments is developing rapidly.
MS is thought to affect more than 2.3 million people worldwide.
Once a month, the staff at Hands-On Physical Therapy of New York participate in "Jeans Day" to raise money for a worthy cause. This month's cause is research into finding a cure for Multiple Sclerosis (MS). Any staff member wishing to participate donated $5 for the opportunity to wear jeans to work (and help fund this important research).
Hands-On Physical Therapy collected $75 in support of finding a cure for Multiple Sclerosis.
"I love 'Jeans Day'! It's a great opportunity to help such an important cause and a fun way to do it." - Staff Member at Hands-On Care Physical Therapy
Hands-On Physical Therapy has four offices in New York City: Astoria (Queens); Bay Ridge (Brooklyn) and two in Manhattan. To learn more about Hands-On Physical Therapy of New York, please visit http://HandsonPT.org or call (888) 626-2699.
###