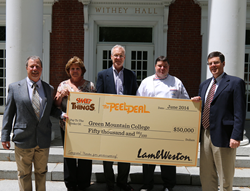 It is encouraging to hear how the schools are planning to use The Peel Deal prize money to better serve their students and hardworking employees.
EAGLE, Idaho (PRWEB) July 14, 2014
Through its "Peel Deal" promotion, Lamb Weston® rewarded two lucky school foodservice operators with a $50,000 grand prize for their operation.
The winning foodservice programs at Centerville City K-12 Schools in Ohio and Green Mountain College in Vermont were chosen from more than 10,000 entries. A Lamb Weston representative honored each school by presenting checks to its foodservice director.
"Meeting our grand prize winners in person and presenting them with significant funds to grow their foodservice programs was a privilege for us," said Rob Owen, director of marketing at ConAgra Foods Lamb Weston. "It is encouraging to hear how the schools are planning to use The Peel Deal prize money to better serve their students and hardworking employees."
To further its sustainable farm-to-table approach to university dining, Green Mountain College plans to use its grand prize money to buy a large outdoor roaster. Currently, the foodservice program has a small farm, where they raise pigs that are fed table scraps from the kitchen. This outdoor roaster will allow them to prepare the pork for the students in a more convenient, delicious way—bringing their sustainable effort full circle.
The other grand prize winner, Centerville K-12 schools, has dedicated its grand prize money to reward its hard-working staff in tangible ways. After receiving feedback from all the staff, one purchase that the school made was anti-fatigue floor mats for behind all of the counters, so their employees are better able to serve students during meal times.
In addition to the two grand prize winners, Lamb Weston awarded fifty winners with free Sweet Things® fries weekly for one year and 100 winners with free Sweet Things fries monthly for one year. Operators entered The Peel Deal instant-win promotion by locating The Peel Deal sticker on the side of select Sweet Things cases and peeled the top layer to reveal a code, which was redeemable online.
Beyond providing operators the opportunity to win cash and free fries, Lamb Weston Sweet Things' diverse portfolio is sure to help operators meet the growing consumer demand for sweet potato menu items. In fact, 73 percent of consumers want to see sweet potatoes on menus, yet only 20 percent of all restaurants are serving at least one sweet potato item(1).
To learn more about adding Lamb Weston Sweet Things products to your menu, call 1-800-766-7783 or visit NotJustAnotherFry.com.
About ConAgra Foods Lamb Weston
Lamb Weston makes quality frozen potato, sweet potato and other vegetable products for restaurants, retailers and other foodservice operations throughout the world. Lamb Weston is a brand of ConAgra Foods, Inc., (NYSE: CAG), one of North America's leading food companies, with brands in 99 percent of America's households. For more information, please visit us at lambweston.com.
(1) Datassential, December 2012